Meet the team – SAM Sopheak
Moving silently behind the scenes to make sure the lights, sound and stage are exactly as they should be is down to Sopheak and the dedicated technicians at Phare, The Cambodian Circus!
---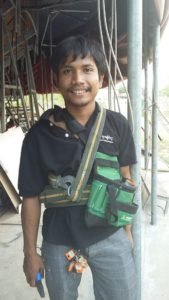 What is your job at Phare?
I am a technician. I manage the lighting and sound, and sometimes I help build sets and the stage.
How did you first come to Phare?
I come from Battambang. I am one of eight siblings. My family was very poor and my mother was always sick and my father also. So when I started to go to public school, it was too difficult. I studied far away and after school I worked as a laborer to make money, on construction sites. When I came home, there was no rice, no food.
At this time, I came to know Phare through my brother, and I thought that I'd like to study. I had been thinking about starting a company, but I didn't have money. So after two years and a half I began to study with Phare Ponleu Selpak as a technician. It was like a practical apprenticeship, I learned from people who had done this kind of job before. I studied sound, lighting, stage management and electrical design. Two years later, in 2008, I became part of the staff in Battambang, then moved to Siem Reap.
How has Phare changed your life?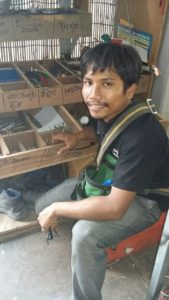 I like working at Phare. My life is better. I know a lot more than before. Before when I started I was small, now I'm the big chief for the technician group.
If you weren't working at Phare, what would you be doing?
If I wasn't working at Phare, I'd still be a laborer in Battambang. I'd have continued like before.
What is your favorite part of your job?
My favourite part of my job is making electronics. It's difficult, but I enjoy it. I want to study more. Maybe electronics repair.
What was is like to arrive at Phare for the first time?
When I started at Phare in 2008, there were six technicians. Now there are fewer because some people didn't like it and quit. It's difficult because we do everything, not just sound and light, but lots of things. It's too much for some people.
What is your life like outside of work?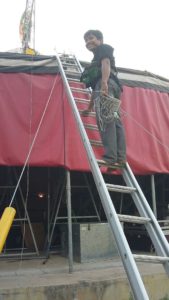 I live in Siem Reap with my wife, who also works at Phare. She is a costume manager. She is also from Battambang and started working at Phare two years ago. We have a nine-month old daughter. Her name is Kahnanita. She lives in Battambang with my family because my wife and I work full time and don't have much time.
Most of my family lives in Battambang. They don't come to visit, but I go visit at least once a month to see them and my daughter. I have a lot of family in Battambang, lots of nieces and nephews. When I go there, there's maybe 100 people to visit and see.
My older brother studied painting and drawing, and is now a theatre teacher at Phare Ponleu Selpak. And I have another brother who studied as a circus performer and now lives in France with his wife. I haven't visited them, but I hope to.
What do you hope for the future?
I hope to create my own sound and light company, where I can rent out equipment or sell equipment.
---
Meet Sopheak's wife Darytha, Phare's costume manager, here
Learn more about the technical side of Phare's productions here