Meet the Stars: Srey Leak
One of two female performers in Eclipse, Srey Leak grew up in Battambang and sold cakes with her mother and sister before joining the circus.
---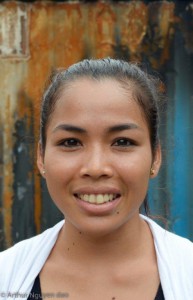 How long have you been with Phare?
I've been with Phare for 12 years. I started as a student at the Phare Poleu Selpak public school in Battambang when I was nine years old and then joined the circus school when I was 13. I have been performing with Phare for a long time! I'm currently in the show Eclipse. I do contortion, handstand and hand to hand to in the show.
How did you first hear about Phare?
My family comes from Battambang, and I lived there with my mother and sisters. We were poor and my mother made cakes and we sold them together.
A teacher from Phare Ponleu Selpak came to talk to us one day and asked us to go study at the school. At first my mom wasn't happy I was studying because she needed me to help sell cakes to make money. But I said to her, if I finish work, then I go study. So after I finished working at home in the morning, I went to school in the afternoon. My sisters also went to Phare. My older sister studied theatre.
How has Phare changed your life?
Det (the co-founder of Phare Ponleu Selpak school) helped my family a lot. When my father died, we were homeless, so my mother asked Det to borrow money to buy land. He lent us money and we arranged to pay him back slowly. My mother started cooking at the school to repay some of the debt, and my older sister used the money she earned from performances to also help pay some of it.
My mother is still a cook at the school. And my older sister who studied theatre now works on many projects in Cambodia and abroad.
For me, I had the chance to learn circus and to study for free at public school. And when I was young, I lived with Det in his home for one year, with one generation of circus students. We all came from different places and lived in small house together. We ate food together, not much food, but we were poor together and it was good. It was like a family.
Why did you start to do circus?
I joined the circus school because it was different than the other programs offered at the school. I saw the older generations of circus performers from Phare earning money and traveling abroad and I wanted that for myself too.
What has been your favourite part of studying and working with Phare so far?
Lots of things, but the best thing is being able to learn. I was able to go to public school for free and to learn circus performing as well. Later I could attend workshops and travel, always learning new things. I've travelled to 10 countries in Asia, Europe and Africa, sometimes to attend workshops, sometimes to perform, sometimes to teach workshops.
What is your life like outside work?
I live in Siem Reap with my husband. We just started to rent a room. Before I lived in Battambang, but performed in Siem Reap, so I had to be here 10 days every month. I went back and forth, but it didn't leave much time for things like learning English, so I decided to try living in Siem Reap for a little while.
My husband is also a performer and he is substitute performer for the show. I met him at school. We were part of the same generation of students and we fell in love when we were on tour in France with the show Putoh!.
What are your goals for the future?
I am the third generation of performers to perform Eclipse, so it's not as exciting because I've done it for so long. But I want to continue to perform as long as I can keep learning new things.
I would also like to create my own show, to create a performance. I have many ideas and I'd like to make a show for children. I want to make a show about the life of people in Cambodia to show the world Khmer culture more clearly. Many countries don't know about Khmer culture, so we have to show them what we have.
---
Read more about Eclipse here.
Learn more about Phare Ponleu Selpak, where all our artists train, here.