Meet The Stars: Nem Mann
By: Vattanak Chou
Nem Mann is a circus artist who performs regularly with the show "Influence". At only 18 he's already a talented circus artist who does acrobatics and hand balancing. But that's no surprise. He comes from a family of circus performers. Between him and his ten brothers and sisters, seven are in the circus. One performs in the show "Sokha", one is a student at Phare Ponleu Selpak in Battambang, and one performs with Cirque du Soleil.
---
How long have you worked at Phare? 
I started to study at Phare Ponlue Selpak when I was seven years old, so in total I have been with Phare for eight years years as student and one year as a circus performer.
Where are you from? Tell me about your family and life when you were young?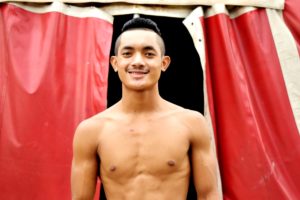 I come from Battambang and I have eleven siblings, seven of them are in the circus. One is in Sokha, others are studying in Battambang, My mother was a seller and sold things in Phnom Penh and my father was a moto-driver. They moved to the capitol because they could earn more money there. After my older siblings started going to the circus and performing and earning some more money, my parents moved back to Battambang to look after their children. While my parents lived in Phnom Penh, I lived with my siblings and grandmother and grandfather.
How did you first come to Phare Ponleu Selpak? What did you study there?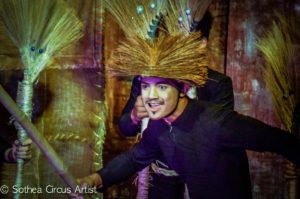 I started out just going to the school to play because my brother was a circus student there. I just went with him to try a little bit, like juggling. After that I just continued with the circus because I liked it!
What is your favorite show at Phare?
"Influence" is my favorite show because I perform in it, and I think it's so different than our other shows because there is puppetry.
W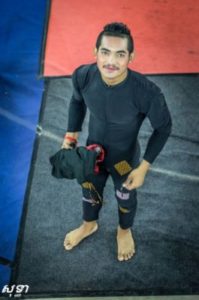 hat would you do if you weren't an artist?
I just want try to study to improve my skill to be a better artist.
What is your life like outside of work? 
Now I'm single and during my free time I go to Battambang for training and improve my skills. I also play sports and go to the gym. I like to learn other languages and I like photography too.
What are your hopes for the future?
I want to be an artist and go around the world. I would like to study where my brother is in Canada, and get even better and perform there.

---
Read more about "Influence"
Read more about artists at Phare