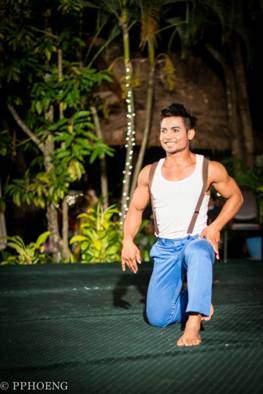 Meet Sothea, 24.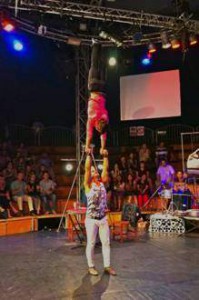 Sothea was born in a refugee camp on the boarder between Thailand and Cambodia in the early 90's as the Khmer Rouge was dissolving.  He lived there with his family until his sister was born 2 years later.  They then moved to Battambang.  There, the family life grew substantially. With an eventual whopping 12 siblings, home life was very challenging at times.
Sothea and his brother worked hard selling rice cakes from the large platter arrangement his brother would carry balanced on top of his head.  These long strenuous days changed in style when Sothea began studying at the Phare Ponleu Selpak (PPS) School in grade 6 as a young teenager. Two years later, though he didn't see the point, one of Sothea's teachers said that he looked strong and encouraged him to try studying in PPS's Circus School. Reluctantly, and with the draw of continued free meals, he gave it a try.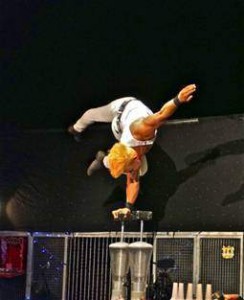 Sothea admitted those early years weren't easy years of study weren't any easier than before he joined the school. His parents moved to Phnom Penh for work and there were times he felt so alone he slept beneath his bed with the dog. He kept mostly to himself for a while, but said over time, "joining the circus gave him a community and made him stronger."
Circus skill: Sothea is a hand balancer and partner acrobatic porter/base. He says his hand balancing initially grew when his training partner would always be late for practice and he would spend his time working on his handstands. In time, he began to favor hand balancing because he was able to focus best when alone, but also because he loves the beauty of the shapes that can be made… he likes the ability to show his own creative flare in the shapes and his movements. His style is slow and controlled, or static, which requires all his focus.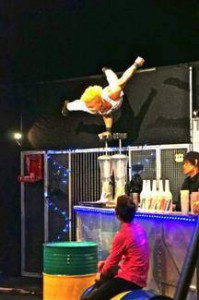 Favorite moves? Planche with his legs together. And what move is he working on next? Well, he says he can only do it 60% of the time so it isn't ready for show, but it looks like this…
Surprising talents? Sothea can drive a tuktuk! And, his photography skills are improving all the time.
When I asked him what he dreamed of doing when he grew up before the circus, Sothea referred back to what he told me earlier… He had stayed inside a lot as a child because the world seemed like such an unkind place. This came as no surprise considering the political circumstances he was born into. A shift came, however, when he went to Phnom Penh once to visit his parents. His family was selling goods on the street and police said they could not vend where they had set up and became violent with them.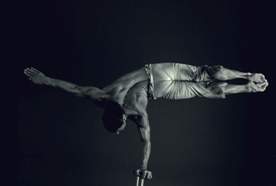 Feeling outraged, Sothea decided then that he would become a strong policeman who would protect people doing honest work.
It remains to be seen if he'll ever pursue his career in law enforcement, but if you are able to see him perform, there is no question Sothea has grown up to be incredibly strong, inside and out.
When you're looking for things to do in Siem Reap, come by our Big Top and see why we are the number one attraction in the city… Up this week is our show Khmer Metal. Come and you'll get to see Sothea in action!