"Khmer Village" set to perform across the US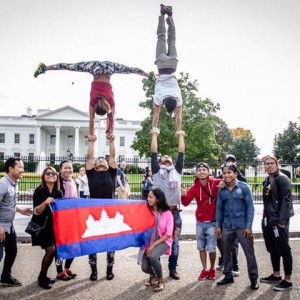 From September 11-17, 2016, nine Phare artists will perform the show "Khmer Village" across the US. This is the second time Phare will visit the US. Last year, the show "Khmer Metal" toured California, Florida, and Washington D.C.
"Khmer Village" is a cabaret-style performance featuring a mix of theater, circus, and live music. The storyline, music and acts were created in a unique collaborative process between international choreographers and Cambodian performers.
The show presents an upbeat view of present-day Cambodian life and the cast features nine Cambodian artists–six acrobats and three musicians. It is an opportunity for American audiences to see something completely different, a truly spectacular, rousing, energizing, and sometimes surprising performance by a group of highly trained, talented artists.
---
Show Dates:
---
Read about last year's US Tour in California and Florida.
Read about other international performances.