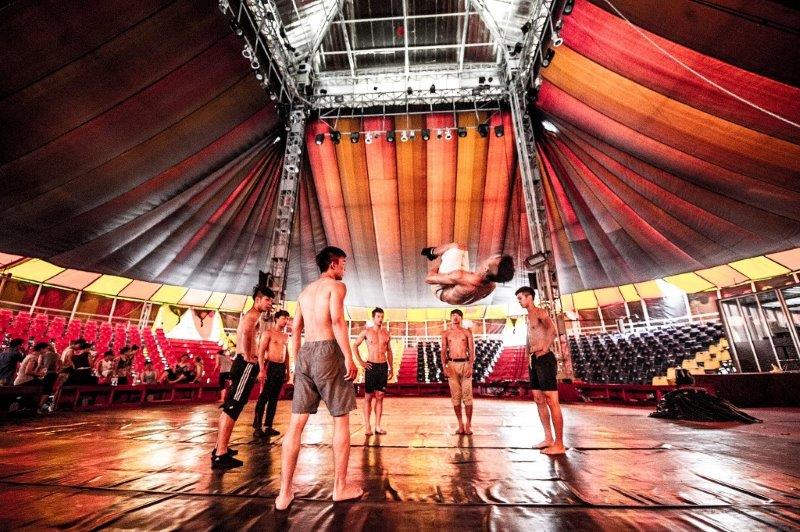 By Sunita Mager – A night at the circus is fun event, especially when you're new to Cambodia. Luckily you don't need too much time to prepare for an exciting evening out.
Follow these simple tips and you'll be good to go.
Dress
The more comfortable you are dressed, the better you will feel. Cambodia is a hot country, even in the wet season, so wearing loose clothes, dresses or shorts is the best. You can also choose to wear something nice. After the show most guests take pictures with the performers, and who doesn't want to look their best?
"I always put on some mosquito spray before leaving the house. Those skeeters love my ankles…. Dinner before the show is great. I love the Phare music and colorful lights of the big top in the background. Sets the mood. I love the popcorn, but usually like to keep my hands free during the show – Applause applause…However, I like to take a cold beer in too." – Craig Dodge, Director of Sales and Marketing
Arrive
Arrive early. Even if you have made prior reservations in either A or B section, ALL seats are on a first-come-first-serve basis. The big top opens at 7:30pm, leaving you enough time to….
"I like arriving there after 7pm to have a look at Phare boutique, and grab a beer and some snacks (french fries or spring rolls). I rarely have dinner at the cafe but if I would do, I would go for amok. If I arrive later than 7:30pm, I would buy an ice cream or a beer to bring into the big top to enjoy it while watching the show." – Momoko Ikeuchi – Assistant Sales Manager
Shop
Once you have your tickets, Phare Boutique is just a stone-throw away. In there, all items are beautifully crafted, hand-made and purchases not only make for great souvenirs, but also contribute to local communities and of course go back to Phare Ponleu Selpak, the non-profit school in Battambang.
Eat
Did you know that there is a Phare Cafe that is on the circus ground right outside of the big top? The food there is delicious – a mix of traditional Khmer and Western food for veggie and non-veggie lovers. Are you vegan? – That's not a problem. The Cafe can prepare a special vegan menu for you on request. The cafe also serves great cocktails, wine and beer which can all be brought into the big top if you like. Time for dessert.
"I buy popcorn and coke to take  inside the big top; and I always take small fan inside too. I like Phare music." – Vattanak Chou, Admin of Sales and Marketing
Popcorn
Fret not. We have the best popcorn in town! It's popped using olive oil and real butter, not butter-flavored oil. You can purchase a bag right at the entrance of the big top and take it inside too!