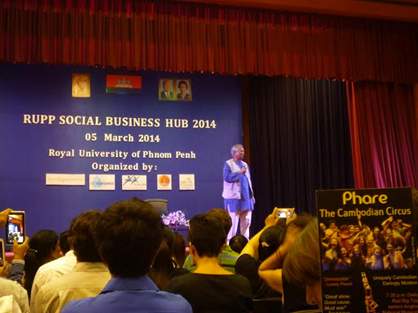 At Phare, our hearts and minds are fully invested in helping our artists be successful. We are a social enterprise and to financially take care of our own we need our circus business to thrive.
Last week on March 5th, Phare Performing Social Enterprise attended the 3rd edition of the Social Business and Social Entrepreneurship Hub at the Royal University of Phnom Penh.
The goal of the gathering was to highlight the new social enterprise movement taking shape in Cambodia, and to bring the sector together to share resources and to increase visibility for social entrepreneurship in our communities.
Nobel Prize winner and micro-finance entrepreneur, Professor Muhammad Yunus, optimistically addressed the youth on Cambodia's promising future.
"Experience, share, social innovation and youth" were the keywords of the day. The event gathered almost 500 social entrepreneurs, social business, students, NGO's and Phare teams met a variety of Cambodian, Asian and European social entrepreneurs – strengthening the network of connections and ideas Phare can use to further help its community.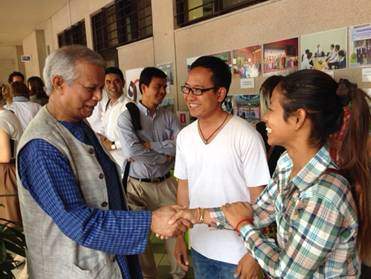 Four artists of Phare the Cambodian Circus had a chance to perform on stage in front of the assembly and met Prof Yunus at the end of the show. The performance was impactful and the audience was very receptive to the show.
What next? Now we take those connections we've just made and make our best team effort with other organizations like us to take ours, and their, social enterprise to the next level of success.
With stories like this, you never know where you might see a world-class circus performance. But, you know you can always enjoy the best of Siem Reap nightlife at one of our evening shows. Stop by soon!
If you'd like to read more about the gathering in Phnom Penh, go here and read on: http://socialenterprisecambodia.org/2014-time-bring-together-social-enterprise-sector-cambodia/