Financial Literacy Workshop (Part Two)
Phare, The Cambodian Circus has 2 primary social missions: fund Phare Ponleu Selpak non-profit school and provide well-paying jobs to its graduates. Life-skill workshops are another part of Phare's social responsibility commitment. Read more abut the second financial literacy workshop conducted by ANZ Royal.
"The first step is to write a plan, to write down how much they spend every day, every week, every month and on what," says Ou Saorn, a Cambodian finance facilitator and coach. "It is basic, but important."
On April 8th, artists from Eclipse took part in a financial literacy workshop sponsored by ANZ Royal, organized by VBNK and hosted by A+B=3, a social enterprise that creates and delivers tailor-made financial education programmes to young adults, low income workers, rural communities, immigrants, factory workers and other populations unfamiliar with money management. They work in eight countries—Cambodia, Hong Kong, Philippines, China, USA, Kenya, Tanzania and India—and have trained an estimated 19,000 people since first launching in 2005.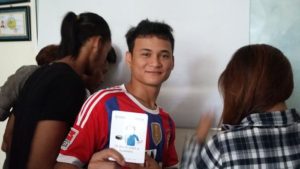 During the four-hour workshop, the artists answered questions like: What do I want to do with my money? What happens when I don't manage my money? How do I deal with debt? How do I write a budget? How do I plan and save for future goals? Where do I save?
"One challenge is money management," says Ou Saorn. "When they have money in their pocket, they go to the market and spend it all. I tell them, don't put all your money in your pocket, think about what you need to buy before going to the market, estimate what it will cost and take only take that amount with you."
Another technique is to have different envelopes for different types of expenses, for example groceries or clothing. Ou Saorn suggests determining how much money is needed for those expenses per month, putting that amount of money in the assigned envelope and once you run out, not replenishing it until next month. These simple techniques, in addition to creating a written account of spending, creates awareness about how much money is coming in and going out, and what is a necessary expense and what isn't.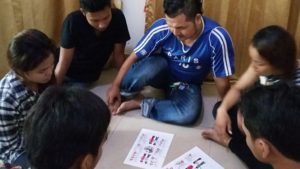 Eclipse musician Ngam Rattanak says about the experience, "I learned how to manage money in my life. Before it wasn't clear how to spend every day. Now I know how to plan per day and per month how to spend."
"Most people I teach have vague ideas about savings. Most people also have goals, like buying a house or a moto, but they don't know how to get from where they are now to where they want to be. So I help fill in the gaps.''One way is to focus on short term goals. Many of them are just starting to work and their salaries are not huge and something like a house is very expensive. So I train them to think about small goals, achieve those, build confidence and then make bigger and bigger goals in the future."
A follow up workshop is planned for two months from now, and Ou Saorn will return to see if the Eclipse artists are following his advice.
---
Read about the first financial literacy workshop with Sokha artists and students from Sala Bai here
Read more about Phare's partnership with ANZ Royal here