New Ballet Shoes!
A big thank you to the Nederlands Dans Theater for their donation of 150 ballet slippers. They just arrived and the Sokha artists are already making good use of them.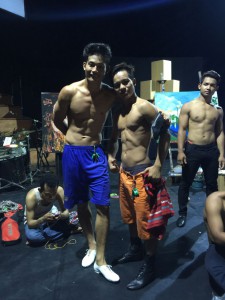 "Ballet shoes are extremely important for aerial acrobatics, dance and tight-rope walking," says Xavier Gobin, Phare's Operations Manager. "Artists performing these acts need very light shoes with excellent grip. For acrobats, the sole needs to be very smooth for when they land on the shoulders of their partners. For dance and floor work, the shoes need to be soft enough to flow with the lines of the foot when pointing or flexing. To allow for pirouettes, the shoes should not stick but they also must not slip or the artist will lose control. It's a very delicate balance."
From its home base in The Hague, Nederlands Dans Theater makes contemporary dance which every year tens of thousands of people from all over the world come to enjoy. The company is led by artistic director Paul Lightfoot and consistsof two groups: Nederlands Dans Theater 1 and Nederlands Dans Theater 2, together good for 160 performances a year at home and abroad.
A long time supporter of Phare, Nederlands Dans Theater also donated building materials for stages in Battambang and Siem Reap in 2009.
---
Read more about Sokha and the types of acts these new shoes will be used for here.
Read more about Xavier Gobin, Phare's Operation Manager here.