Tini Tinou: How to Plan a Festival
By Tida Nou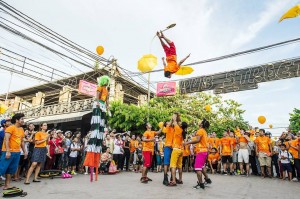 Organizing the Tini Tinou International Circus Festival is a bit like a juggling act. Lots of balls are thrown in the air, and you hope that you can catch some, toss others into the air and mix them up in just the right way so that it looks impressive. Sometimes, things can go wrong but you try and make the best of it and keep on going and hope that you don't drop all of the balls at once!
---
Today we meet two Phare staff members who have driven the revival of the Tini Tinou International Circus Festival in Cambodia, Davina Macphail and Melissa Fournaux. We asked them about what goes behind the scenes of organizing an international circus festival in a country where things don't always go according to plan.
Q: Why did you revive TT? What is the value of bringing international troupes to Cambodia?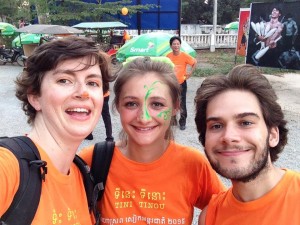 Davina: Tini Tinou should have never stopped! We simply brought it back to life. It is part of what Phare is. A combination of local talent with an international dimension.
Melissa: Because it's an amazing opportunity to support the development of Cambodian arts and artists, make this culture known worldwide and connect different performers around a community event!
Bringing international troupes has three major values: for Cambodian artists, the contact with international performers is very important for their professional development. It helps them grow in their artistic career. The second one is toward the community. It is the only circus festival in this country and we know access to culture can be reduced in Cambodia. Phare Ponleu Selpak sees in the art a path for development: it's in its heart and history. We are glad to give the possibility to more and more Cambodian to see international performers in their country and make people dream. The less visible value  – but it's so important –  is that the festival brings performers around the world together and really helps the development of a sustainable art industry in Cambodia by connecting various stakeholders such as partners, sponsors, hotels, artistic organizations, and institutions.
Q: When does the planning for Tini Tinou start?
Davina: As soon as one finishes!
Melissa:  There is no start… because there is no end! When one festival is over, we meet all the partners, organize internal meetings and start to think of the next edition.  
Q: How many people are involved in planning Tini Tinou?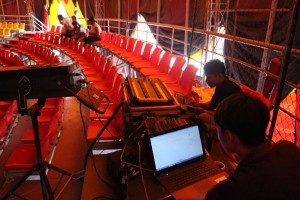 Davina: Two people, Melissa and myself, but it really is a team effort and all contribute at some point whether it is to find troupes, help with the shaping of the festival or simply being there during the festival parades.
Melissa: The team is becoming bigger and bigger! From one and a half person in 2014, we now have four people dedicated to Tini Tinou. But in fact, everyone in Phare team contributes to make the festival happen. It involves a lot of people!
Q: How do you select which circus troupes will be involved?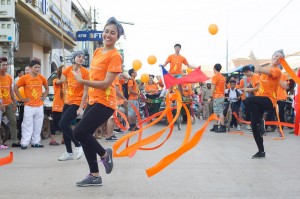 Davina: I could say that we have a very selective process and only the best make it to the final selection! But the truth is we try to find the right troupes with a good balance of skills, willingness to share skills and eagerness to discover Cambodia.
Melissa: We use different channels to select the troupes like Phare network, online applications, spontaneous applications, opportunities… But  the good match are the ones who are not only interested in performing, but want to know more about Cambodia and want to share their experience and skills through workshops and parades. We noticed last year that it has been very important for the artists so this is the tricky question when we interview the troupes! The troupes were connected really well last year and the atmosphere was about friendship. A few months after the Festival 2015, the Swiss artists went to visit the Taiwanese artists. And 3 weeks ago (one year later), the Taiwanese artists went to Switzerland. So the festival really helps to create links around the world!
Q: What are the challenges in coordinating an international circus festival which travels around 3 cities in a developing country?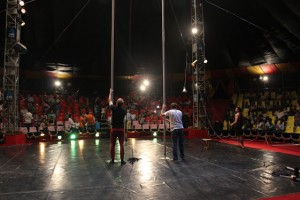 Davina: For a festival like this to work we have to plan well but then also go with the flow. There are also many advantages to plan a festival like this. We have access to partners who have been great supporters of Phare through the years and are keen to help for the festival. I am thinking of hotels such as Intercontinental Phnom Penh, Shinta Mani, Angkor Village Resort and corporate sponsors such as Cambodia Airport, Total, and Smart. The festival would not be possible without them.
Melissa: Actually the challenge is to be really coordinated with everyone involved. The challenge of being in a developing country are more about logistics, like the transportation between each cities and the light equipment because specific needs of the troupes can't always be addressed. Being in three cities is challenging because we have to organize 3 times the accommodations, the meals, the local transportation, the venues, so this is a lot of coordination with specific stakeholders in each city… But this is also all the interest of Tini Tinou, and the fun part!! Really, I mean that the challenge is to plan as much as we can, knowing that we will have last-minute changes.
Q: What is your favourite memory from Tini Tinou 2015?
Davina: The workshops were amazing and just being on the road and sharing the offstage moments were really strong and emotional.
Melissa: Hmmmm, I have a lot, but if I have to pick one, I will say the parade in Siem Reap. We went in the streets with the artists and Phare the Cambodian Circus staff. We designed the parade so we knew which artists should perform where and when… and they ended up doing diabolo, acrobatics and juggling battles in the middle of the streets. Despite the heat, they would not stop! That is a nice memory!
Q: What is your vision for the future of Tini Tinou International Circus Festival?
Davina: First to be a regular event in Phare for the years to come. In the long term, to be a key event for circus in Asia.
Melissa: A sustainable yearly international circus festival, touring in 5 cities (at least) in Cambodia and being an unmissable event in Asia!
---
Read more Tini Tinou blog posts.
Book tickets and get more information about Tini Tinou 2016 at www.tinitinou.com.