Behind the Scenes: Influence
By Vattanak Chou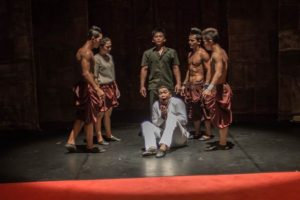 Survival of the fittest. Domination. Manipulation. How do we create a place for ourselves in the world?
Influence mixes drama, circus and puppetry to explore struggles for power and survival. From primordial organisms battling in pre-historic jungles to an ancient king being manipulated by external forces or a runner tripping his competitors to win a race; all seek to triumph. The characters of Influence dominate and are dominated, trick and are tricked, but ultimately discover their own strength and find unique place in the world.
Influence is the latest Phare creation and is still under development. The artists, musicians and their teachers have come up with a powerful, theatrical drama that is on track to become a top Phare production. It will also play at the 2016 Tini Tinou International Circus Festival. Today we meet two artists from the show: Rachana and Sophat.
---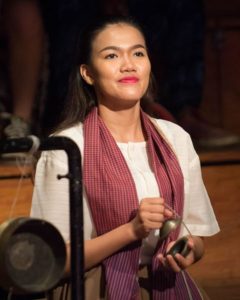 Sophat is a musician in Influence. She is 22 years old and lives in Chamka Samrong 2 Village in Battambang. She has three siblings. She was the youngest in the family. Her father is a farmer and a carpenter and her mother sells snack and drinks at the local market. She started studying at Phare Ponleu Selpak at age 12 years and is still a student there 11 years later. She will graduate soon.
Sophat learned Khmer traditional music and she starred performing in the show Adventure, Proniap and Influence. She has performed abroad two times already in Germany and France. Despite her love for music, she wants in the future to own her own business.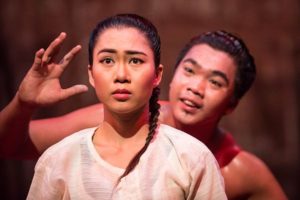 Rachana is a circus artist. She is 19 years old and lives in Ochar Commune in Battambang.
She started school at Phare Ponleu Selpak  at age 11 years and has been there for eight years studying contemporary circus. She also learned circus despite difficulties and problems, but says she would never give up doing circus. Rachana has been studying in this field for five years. She has also been selected for several team shows, such as Mix Five, Fivestyle, Adventure and Influence. Her special skills are juggling, pyramid and banquine. In the future she wants to open her own business, but she does not want to abandon the arts. She wants to share her experiences with the younger generation so that they understand how important art is.
Influence will play at the big top throughout April and May, and will also be part of the Tini Tinou International Circus Festival.
---
Read more about Influence.
Get more information and tickets for Tini Tinou.