Tini Tinou: Connections – Lasting friendships made in the circus!
by Chloe Belford
One of the most important aspects of the Tini Tinou International Circus Festival is the chance for artists from across the world to meet, learn from each other, and collaborate together. Not only do these opportunities form and strengthen bonds across the international arts community, but the connections made add to the joy of the festival atmosphere. Thanks to the internet, the artists who have participated in Tini Tinou in the past have been able to keep in contact via Facebook and Skype, and some lasting global friendships have developed right here in Cambodia.
This is the case with two troupes of performers who were in Cambodia for the Tini Tinou Festival 2015 last year. Les Papillons, a dance group from Switzerland, and Formosa Circus Arts (FOCA) from Taiwan, formed an immediate friendship between all of the members, despite considerable language barriers! We were very excited when we heard that the Taiwanese performers had even travelled to Switzerland recently to meet up with the friends they made here in Cambodia! We spoke to a few of the girls from Les Papillons to ask them about their experience and the friendships they made.
---
Q: What was your favourite aspect of being involved with Tini Tinou last year?
Heidi: Our favourite aspect first of all was to be invited to such an amazing international festival! We are not a professional group of artists – so it was an honour for us to join the Tini Tinou Festival in Cambodia. That was like a dream come true for all of us. We have known each other for so many years – but we never left Switzerland for any performances. Can you imagine how excited we were when we heard about the invitation from Dara? And then the most exciting aspect was meeting artists from all over the world and being part of a circus family for two weeks! What a unique chance. We see that as the biggest gift!
Schanika: My favourite aspect was to meet so many talented artists. I gained a lot, I got a lot of new inspiration and never learned that much in such a short time. All in all I just loved the feeling to be an artist and travel with the Circus. It was amazing being a part of the circus and sharing moments with all the artists and members like in a family.
Ruani: One of my favourite aspects was to perform in a circus and to travel around as a big circus family. I liked the exchange with the other groups because we were all so different and we could learn a lot from each other.
Q: The artists from Les Papillons and FOCA became great friends during the festival last year. Why did you have such a special connection?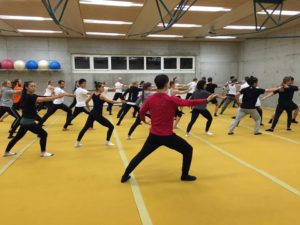 Heidi: That's a good question – maybe it was 'love' at the first sight!? FOCA arrived one hour after us at the hotel in Phnom Penh and from the first to the last moment there has been this special connection. Even though we didn't speak the same language and we have completely different cultural backgrounds we shared nearly everything these two weeks – same accommodation, same schedule, same highlights, same struggles, same emotions. That connects a lot. And there was always a lot of respect for one another. They were literally like big brothers to us.
Schanika: For me it's hard to explain why. I think one point is that we had almost the same composition of members. We were 8 girls and they were 10 boys, at the same age and with same interests. Everything fits! We had very special moments of sharing things and learning from each other. Teaching and learning body-language, English or even Chinese made the whole stay in Cambodia special and very fun. Plus I believe that because we didn't know anything about each other's countries and cultures made learning everything very interesting and unforgettable.
Ruani: I think Les Papillons and FOCA are two very different groups but somehow very similar. The two groups came to this festival the first time and it was for both groups a very new experience. We were in same hotel, we had rehearsal at the same time, we had to deal with the same problems, we ate dinner or lunch together and we were just very interested in each other's talents.
Q: Les Papillons stayed in touch with Formosa, and they came to visit you in Switzerland! What did you do while they were there?
All: Oh my goodness – what a week! They absolutely wanted to go skiing – so of course we took them to the mountains and taught them skiing and snowboarding. That was probably one of the highlights for both – so much fun to see them in the snow for the first time in their lives! Then they spent one day in our hometown of St.Gallen and one day in Zürich, they taught circus skills at the secondary school in Appenzell and they told us, that they would be interested in any kind of artistic exchange. So we asked a group of local 'swinging ring' artists to work with FOCA. Finally we super lucky and got the chance to work one afternoon with the founder of RIGOLO SWISS NOUVEAU CIRQUE – Mädir Eugster. He created a small 'piece of art' with FOCA and Les Papillons in only one hour and he explained us his understanding of contemporary circus.
The evenings we spent together eating lots of cheese and chocolate, playing Swiss games, talking about how different our lifestyles are and the last night we went to carnival together. No need to tell that we were all very sad to say goodbye after five unforgettable days with our Taiwanese brothers…
Q: Do Les Papillons have any plans to go to Taiwan?
Heidi: Three of us already went to Taiwan last summer and visited them! FOCA showed us their amazing country and drove us all around the island. We saw how they live, where they work and we even get the chance to see some performances. We hope to visit them again soon!
Schanika: I would love to go again with the whole group. I visited them for three weeks last July, after Tini Tinou, and it was such an inspiring stay. I could visit their training centre and I
had the chance to participate in some rehearsals and in other dance classes. In addition they organized everything and a full program for us. It was another great time with FOCA! Honestly, they made me fall in love with Taiwan!
Ruani: I was already one time in Taiwan to meet them and it was a great time. They also showed us many things and looked after us so well. Some of us will go again, I'm sure.
Q:Have you kept in touch with any other artists from Tini Tinou 2015?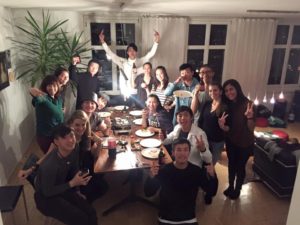 Heidi: Yes, we are of course also in contact with a lot of Cambodian artists from Phare! Unfortunately we didn't spend as much time with them in Cambodia, because we didn't stay in the same accommodations… But we love and miss them all and hope to welcome them one day in Switzerland or go back to Tini Tinou – if we get another chance!
Schanika: Yes, I keep in touch with some Cambodian artists on Facebook. We share posts and pictures and message sometimes.
Q: Would you like to come back to Cambodia?
Heidi: Of course we would – any time! We all fell in love with that wonderful country, the lovely people and Phare, the Cambodian Circus! We talk about Tini Tinou 2015 every single week and we are looking forward about news from the 2016 festival. Our new members hope so much to be invited once more to feel the unique Cambodian vibes one day! Thank you Phare the Cambodian Circus for that unique experience! We are grateful for all you have done for us!
Schanika: To be honest, it is one of my biggest dream at the moment to go back again and participate as an artist in Tini Tinou once more. It definitely was the greatest experience in my life so far. I would love to share new ideas, and maybe create a show together. I am open for everything that comes and I am more than ready for new adventures!
---