Tini Tinou: How to Feed a Festival
Providing lunch and dinner every day to over 100 circus performers, festival staff and volunteers requires some planning. At Tini Tinou, the challenges include a mix of performers and non-performers from a variety of Asian and European backgrounds, as well as the lack of kitchen facilities and people eating at odd times before, during and after performances. The Cambodia Catering Company (CCC) is tasked with making sure that in spite of these challenges everyone is well fed throughout the festival. They're run by a husband and wife team: Michael Foidl, from Germany, and Molyka Yotsoeun, from Cambodia.
---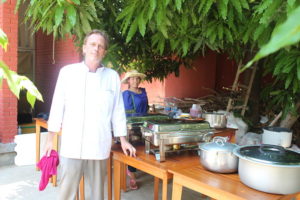 "We're serving a mix of Asian and Western every day," says Michael. "I thought pasta would be good because it's a lot of calories for the artists, but we also have lots of rice and traditional Khmer dishes, including curries, soups and meats."
Meals backstage at Tini Tinou are served as a buffet. Each meal includes at least four or five dishes and the variety is impressive–Italian-style corkscrew pasta with Bolognese sauce, potatoes with sour cream and chives, Khmer-style fried ginger and fish, BBQ chicken and Amok curry are among the options. There's also fresh, seasonal fruit, like sliced dragon fruit, watermelon and mangoes served with chili and salt.
CCC is based in Siem Reap and opened in 2012. They've grown slowly from a tiny catering company specialising in roasting whole pigs to today operating a lunchtime canteen at a hotel and providing daily lunch for workers in a local factory. They serve 300 meals a day and have 16 full-time staff, most of whom are Khmer. Says Michael, "For me, it's important that we take Khmer people who have little to no work experience and train them. And then we continue to train them, weekly, not just in cooking, but also in communications, talking to customers and other skills."
CCC will also sell food and drinks for the audiences of Tini Tinou in Phnom Penh. Circus staples like popcorn, beer and soft drinks are on the menu. And in the spirit of Michael's German background and Molyka's Khmer background, they'll also serve German sausage sandwiches and Khmer Baguettes, with paté on French bread.
---
Read more about the Tini Tinou International Circus Festival here.
Check out photos from the event on our Facebook page here.