By: Arthur Nguyen dao
You who came to see one of our shows in the past ten months, you saw him. Depending on when you came, you saw different shows, different tricks, stunts, and different artists. But Chinpav, everyone saw him. He is the man who greets you and who catches your last laughter with his final speech: the one who says hello and goodbye.
Meet Mork Chinpav, 23 years old, youngest of 6 children family, customer service employee at Phare.
I get to take him away from work for twenty short minutes.
Great smile, good mood, flawless French, he tells me his story.
He was born in Battambang. From his childhood, his most precious possession is a deep friendship with people he considers like his brothers and sisters and who are now known as the Phare performers. At the time, his family was not poor, but having lost their business they ended up moving to the Phnom Penh area.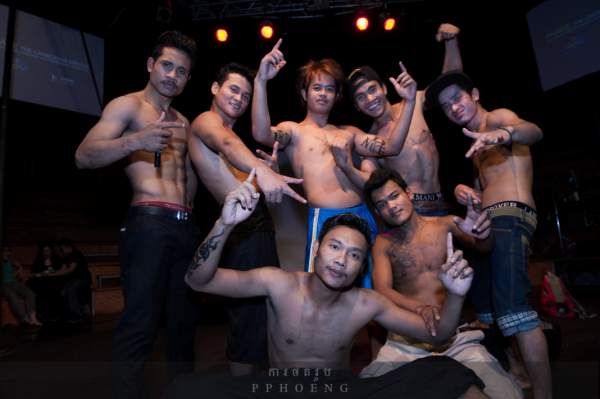 Chinpav's father died when he was young, so he moved to Phnom Penh for his studies. His father dream was that Chinpav could one day finish his studies. And he did his best.
With the results he got for the high school national exam he could choose to study in some universities with a full scholarship. But he refused. He tells me he chose to study at ITC, Institute of Technology of Cambodia, or sala (school, in Khmer) techno for the locals. "It is like Polytechnique (the French equivalent to MIT)!" he says proudly.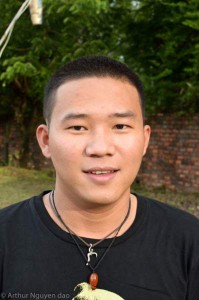 There he learnt French, and as hard as it is to believe, he tells me he was the worst in class when he started in first year. "Because I was the only one who never studied it before" he tells. Now, no doubt he is the best.
He studied architecture and engineering for almost 3 years but he did not finish his curriculum because he could not afford it anymore. Since he is in Grade 11, Chinpav gives French and English courses to Khmer students, but it was not enough. In addition, a part-time job was not possible because studying two subjects, he did not have much time and it cost him double. So even if he had time to for a job, he would not be able to pay for the school anyway as he would not earn enough.
He was devastated not to be able to finish his studies, especially because it meant he would not be able to accomplish his father's dream. But "I think he would be proud of what I am today anyway, he would be happy if he were alive", he says.
Still, he feels the pressure of the family because his brothers and sister work in factories, so he is the one who achieved the highest level of education. In a nutshell, he is the only hope to get back into the family business and rebuild it.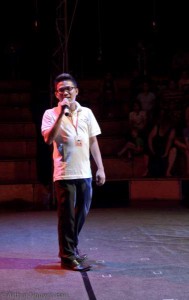 Here in Siem Reap, Chinpav is a member of the customer service team of Phare. He gets assigned to many different tasks but what he likes the most is the human contact. Talking to people is simply what he likes and there is one moment he enjoys in his daily routine. When someone says "15$ ?! It is so expensive!!" he takes pleasure in explaining everything about Phare and what is the money used for. "I love to make them change their mind and in the end realize that it is actually very cheap for such a show". What he prefers is the speech at the end of the show: "it is not about the customer service guy telling the audience about Phare. It is about me telling the people my love for Phare, it feels like talking about my girlfriend: so intense and so personal".
He had and still has many dreams. When he was young, he wanted to become a doctor. "But I had to stay hardheaded – he says – it is way too expensive." Then, he wanted to travel, to discover a country and its culture. The dream has been fulfilled with his 3 months trip to Europe, going to France, Germany and Luxemburg thanks to a flight ticket he won on the internet.
Now, he wants to study in France or in the USA: he wants to live in a different culture, to discover a new way of making business and learn from it. Then he wishes to work there for some years and save as much as possible. After that he would come back to Cambodia and start a social business to contribute to his country's development and to help people. Moreover, he is dreaming of creating an NGO to help students who have difficulties in funding their studies as he did. Ideally he would create a scholarship system "which for now barely exists in Cambodia".
You haven't seen him yet? You know what is the thing to do: come watch him make his best speech at the end of show, everyday at 8:00PM! By the way, there are also a few performers doing quite amazing trips before him.