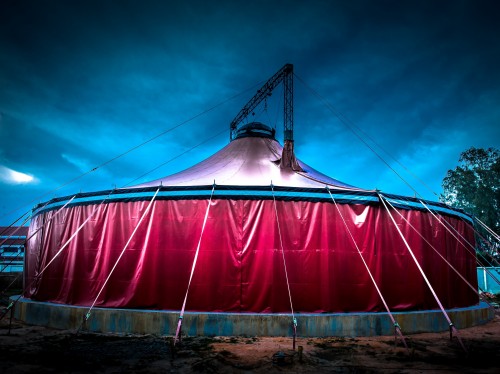 By Arthur Nguyen Dao
Responsible travelers care about the impact of their travel on local communities. Experiencing a performance at Phare's Big Top in Siem Reap is a great way to ensure such a positive impact. It can contribute to paying for housing, career development training or health insurance for our artists and their families. In fact there are many ways your ticket helps us, our artists and Cambodia.
But thinking about sustainable tourism, you may have additional questions as to whether Phare is also environmentally responsible: does Phare operate in ways that protects the environment? Phare is aware of environmental issues and tries to be as responsible as possible.
Reduce, Reuse, Recycle…
On a smaller scale we always think about recycling and giving a second life to objects. How do we do this? Do you see the stylish lamps around the Big Top at night? They are made from plastic bottles painted by our students in our school in Battambang. As simple as it is, you only need a plastic bottle, spray paint and your own home-made stencil to create a very nice bottle-lamp:
Furthermore, any item you want in our boutique is given to you in paper bags made out of newspapers. Being written in Khmer, they are very esthetic and exotic for westerners who cannot read the Khmer alphabet. So it is a nice object to bring back home and you can even share it by using the bag for further gifts to your friends and family. All you need is a newspaper, a string and staples!
Those little things have a twofold impact on our environment. On the one hand, it decreases the use of plastic bags which are widely used in Cambodia. On the other hand, it decreases the waste of plastic and paper resources by giving a second life to objects. It may be a very small scaled action, but "the man who moves a mountain begins by carrying away small stones" (Confucius)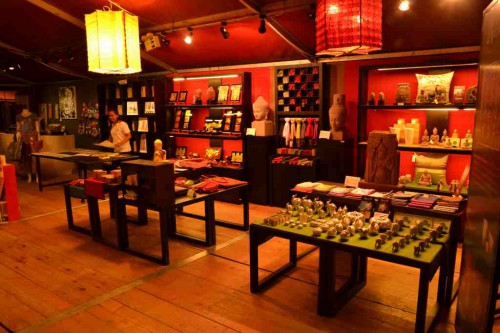 ….And More
Phare is also concerned about reconciling both environmental awareness and social responsibility with the local communities we are working with.
As an illustration, Phare Boutique displays handicraft items primarily made from recycled can pop tops. It enables communities to get the necessary raw material rather easily and at a very affordable price to manufacture unique hand-made items. Hence, we support communities who use recycled objects to create new products by being a reliable source of incomes for them.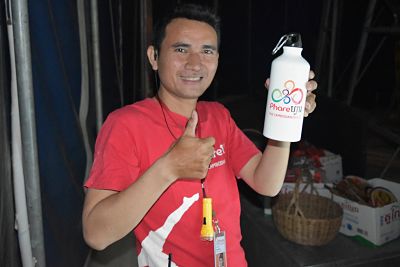 We have been involved in the Refill Not Landfill initiative that aims to reduce the single used plastic bottles in Cambodia – and with it, its accumulating waste. Many other sustainable and environmentally responsible companies and organizations have join the cause and bottles can be purchased in our boutique.
Last but not least…
We are very proud of our partnership with the organization Saray Tonle. It is a non-profit handicraft cooperative that deals with water hyacinth, which is an invasive plant creating tense mats on the surface of the Tonle Sap Lake, making navigation on the lake difficult. Saray Tonle endeavors to make products out of these plants and empowers the women of the floating villages. The action of this organization is highly environmentally responsible due to the invasive nature of the plant and we are happy to have their items on consignment. So we sell their products but we do not make any profit. It is our way to have a positive social impact by employing the women from the floating villages of the lake who realistically do not have many other income sources.
We walk step by step towards an always more responsible circus, be it socially or environmentally. Every step matters to us and if you want to combine entertaining nightlife with responsible tourism and you have new innovative ideas that may help us to go even further, there is one thing to do: just pass by after a show and let's have a talk!