Phare are committed to our beloved hometown of Siem Reap.
We think it's great that the word is out about the joys of Cambodia. We want the world to see this beautiful country and our shows but the growing impact that tourism is having on the environment is cause for concern.
As one of the most popular attractions in Siem Reap we are doing what we can to constantly improve and reduce our own footprint, we sincerely hope that soon everyone in town will start to do the same.
Last Friday saw Siem Reap's annual Clean and Green up Temple Town event. Participating businesses were out in force from 8am and Phare were not an exception. The team rolled up their sleeves and got stuck in on Sok San Road cleaning their way to the big top. Some tuk tuk drivers even got involved.
Meanwhile at the Circus site the rest of the gang got to work planting trees. We managed to plant a whopping 200 around the big top. We can't wait to see them flourish making the surroundings beautifully green and providing some much needed shade.
Something else we are super psyched about is our new refillable water bottles through the Refill not Landfill initiative.
In 2015, 4,775,231 million visitors travelled to Cambodia, staying approximately 6.8 days each and consuming around two litres of water per day.
This means they have the potential to generate, on average, 130 million plastic bottles every year. That is more than 10 million bottles per month, or 355,000 bottles per day, equivalent to 26 Olympic swimming pools filled to the brim with plastic bottles every single year. That number can only grow as the number of tourists to Cambodia is projected to continue rising.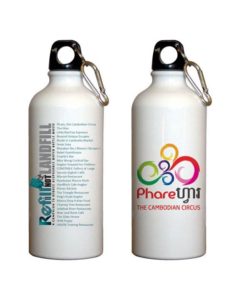 Previously, for our A Section guests seating 60-70 people we would provide a small gift and a plastic bottle of water. The program allows us to give a more meaningful souvenir by knowing that we are reducing our amount of potential plastic pollution by 100's of bottles every night.
The bottles printed with the distinctive Phare Logo will be given to our front and center Section A  guests filled with ice-cold water. They will also be for sale in the Phare Boutique. You will be able to find a refill station placed somewhere conveniently around the venue. Expect to see the bottles at Phare from the beginning of December.
Goodbye thirst, goodbye plastic… If you do opt for a plastic bottle, look out for the recycling bins around our site
What are you doing to reduce your environmental impact while travelling?