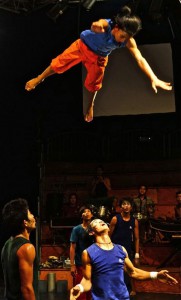 Photos by Leah Baker
Wow. What an evening. Our newest production Proniap! or "Panic!" opened last night and it was a unanimous success. Our tent was packed to capacity and I and other Phare circus staff couldn't help but look around at the crowd during the performance and enjoy the wide eyes on the smiling audience's faces at every turn in the show.
The has been an incredibly rewarding project for our artists and producers… Having been fully engineered in under a month's time, the show touches upon some of the real themes that come up in young artists lives as their careers begin to bloom – including the feelings of panic that arise when one is called in for a major audition.
Here are some pictures from last night's performance: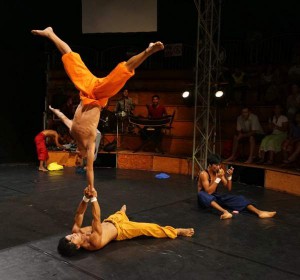 At one point in the show, you can see one of our artists even drew in some participation from an audience member!
The night ended with energy so high that a visiting student group took to dancing in circles with our artists at the end of the show in celebration of a job well done. We were able to talk with the group's chaperone and we were so glad to hear that we provided a great end to their Angkor temple going.
Thanks to all of you who came out and made our opening night a success. And for those that missed it, Proniap! will be showing till the 18th of April. Come do what TripAdvisor says is the top thing to do in Siem Reap after you've finished with the temples of Angkor… Phare, The Cambodian Circus!