The Phare Circus family is deeply saddened by the death of Rin Sophat, one of our invaluable members of the Sokha troupe.
Rin Sophat (Pat) was just 25 years old when he passed away last year on Christmas Eve from his chronic health condition that caused his disability and poor health since his childhood. Sophat was born in Battambang but grew up begging on the streets in Thailand until he was found by the Thai authorities and taken to Poipet. There the NGO Damnok Toek took him in. He was then moved to their Phnom Penh centre where he first took drawing classes, and the NGO noticed what he could do.
Faced with the adversity of disability his whole life, Sophat was still a beautifully sunny person with undeniable talent.
Damnok Toek contacted Phare Ponleu Selpak (PPSA) our NGO art school about the skill of this bright young man. Sophat studied hard at PPSA from 2012 to July 2016. After graduation he volunteered at a school in Phnom Penh teaching art to underprivileged children. Sophat's skill and dedication to the arts made him the perfect choice to be our new live painter for the show 'Sokha'.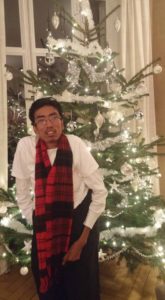 Sophat's first day was 25th October 2016. We spoke to him a few weeks ago for a 'Meet the Artist' interview for our blog to see how he was getting on. We are happy to share some of his thoughts and feelings about his work.
"The first time on stage was scary because what I was doing was so new to me. The music was so fast and I made a mistake. Now I am about 80% confident." He chuckled.
Sophat was proud to be a part of the Phare family.
"I am very happy to be a performer for Phare, because people can see my talent live and know what I can do. It's a great job and my work can go towards supporting my family.
I love doing the war paintings in Sokha because I paint with my hands. I feel I can express my feelings more this way. When I paint the skull I feel sadness because I am telling a real story of what Cambodian people experienced in the past."
To anyone that thinks they cannot achieve the impossible Rin Sophat is an inspiration.
"Sometimes its exhausting for me to paint because my body is different to the average person. If I had great stamina I would want to do massive paintings for people.
In Cambodia it is uncommon for people with similar disabilities to do this type of work. I want to inspire people to do what they want. That motivates me to become a better artist.
More than 15% of people have similar disabilities to me and it is very hard for them to find jobs. Some Cambodian's look down on people with these disabilities. I use my disadvantages and peoples negative opinions as motivation to prove to myself that I can do anything."
Sophat, against all odds was a dedicated artist. In his free time he liked to paint his dreams, self-portraits and especially Cambodian landscapes, which he sold at the Phare Boutique.
"It starts as an empty field, with a small hut. Then I add beautiful temples, mountains, roads, animals, water, greenery, sunshine."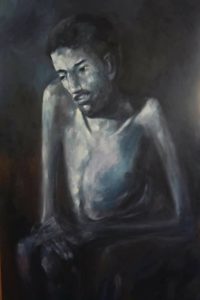 Sophat dreamed of travelling the world with his work and flew to France twice with Phare. Most recently in December last year where he joined the Phare Ponleu Selpak France team in Lyon for Salon de l'Asie.
Sophat's talent and beautiful nature touched hearts of many and we believe his work will continue to do so in years to come. He wanted to pass down his knowledge to the younger generations of Cambodia. Although he was taken from us far too soon, we are dedicated to making sure he is remembered. His story and achievements are an inspiration to our young students at Phare Ponleu Selpak and to us all.
We offer our deepest condolences to his family and friends.
SOPHAT's works can be viewed here