Channy Chhoeun is a shining success story of Phare Ponleu Selpak. Earlier this month Channy had his first solo exhibition, 'Shelter', hosted by Aviary Hotel. In keeping with Aviary's feathery theme, 'Shelter' focuses on birds and their plight in a world being damaged by the carelessness of humans. Channy used oil and acrylic on canvas to recreate the beautiful vibrancy of the birds. His abstract additions to the painting add a haunting element to the otherwise hyperreal technicality of his work.
At only 28 years old, Channy is making waves in the Asian art community and overseas. We spoke to Channy to find out what it's like to be a breakthrough artist and his plans for the future.
Tell us a bit about your early life.
I was born in Battambang not far from the city. When I was 12 years old my family had no land so the government gave us a spot in the jungle close to 15 other families. There was no school or pagoda close by.
Every morning I would make pictures in the dirt before my mother swept. My school books were half writing and half pictures I had drawn. This would get me in a lot of trouble with my teachers and would sometimes have to stand outside the classroom for hours.
How did you start at Phare Ponleu Selpak?
My father saw how much I loved drawing and wanted to find a way for me to learn more so that I could make money for the family
At first he wanted me to be a street vendor, selling art to tourists but a cart would be too expensive. So he went to the city. There he saw an advert for Phare Ponleu Selpak School.
I was 19 when I started at PPSA. My father is a musician and wanted me to study music and art. I couldn't carry on with music because my heart wasn't in it. My feeling is with painting.
Before I had no idea what art was. Day by day, my teacher taught me about art and shared their ideas with me.
I'm so glad I studied at Phare. Art can change the feeling of the people. It can change a country, even the world.
I studied until 2013 but in 2012 I took a year out to teach art therapy to recovering drug addicts. I loved this work. I had the chance to help my people and make these men into good sons. Art helped them to open their minds and reflect on what they are doing to their families.
When did you move to Siem Reap?
I moved to Siem Reap when I finished school in 2014.
I painted watercolors and sold them in the boutique shop of Phare, the Cambodian Circus. I also worked on a tourist boat for a while, painting portraits of the customers which was really fun.
In Siem Reap I started to study the birds, frogs and the countryside. I was still using watercolor, now I like to paint in oil because of the bold colors but it's very difficult as it takes so long to dry.
How did your first solo exhibition come about?
When the owner of Aviary saw my watercolors he loved them. He wanted me to make an abstract painting for him but that was never my style but it made me think. Just painting a bird or a frog is not enough. I wanted my work to have meaning. I thought about the struggle of animals in our world. A lot of species are gone because people do not take care of the land. Thinking like this allowed me to think about how to add more meaning through abstract additions to my paintings that showed this.
The peacock was my first piece for 'Shelter' which can be found still at Aviary hotel. It was very hard work to produce 9 paintings in 6 months. When I was setting up for the exhibition I almost collapsed because I was so exhausted. My energy kicked in when I saw people coming.
I was so proud that so many came to support me and buy art from me. I couldn't believe it. I wanted to talk to everyone but there were too many people and not enough time.
My parents came, which made me so happy. Before they couldn't understand what I was doing and were annoyed that I was not making money. I never think about the money, I think about my art and how it will affect my people
They saw me working until 2am and how much I have to put into my paintings and what they sold for. My parents and me did not have a good relationship when I was growing up. I am so happy that I changed their mind about me.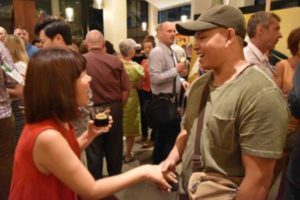 Are you working on something new, maybe for your second solo exhibition?
A project I am working on right now is very personal to me. The series will be self-portraits of me nude. This is to portray how I did not have warmth from my family.
It is scary to do something like this in Cambodia. I worry about the government and what my parents would think. I have to overcome that because I am trying to say something important.
As a child I suffered a lot of abuse. Through my work I could maybe stop this happening to another family.
My parents now have changed a lot of their ideas and feel bad for things that happened in the past. I now can talk to them and they have started listening. I want my art to change the minds of other Cambodians.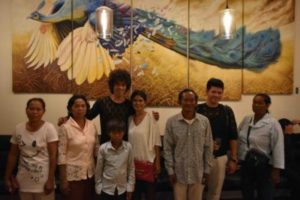 What are your hopes for the future?
I want Cambodia to know more about art and how powerful it is. I also want to help the children of Cambodia in anyway I can. I would like to teach them about art and help them with money when I have enough.