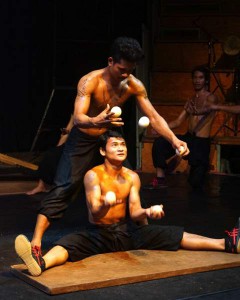 We have a special treat for you today – he is the central character in one of most famous Phare performances where he plays a talented, but outcast villager… Meet Monny Rattanaksambath, aka Sambath, 21, from Battambang, He is an acrobat and juggler in Phare's hit production Eclipse. Sambath grew up playing soccer and volleyball, and he loved to play racing games at a local shop that had a television and Sony PlayStation… this last hobby ended up being bad for him, he says – pulling him away from his schooling. Back then he dreamed of having a fancy car and being a rich man someday. Perhaps leftover from his video game days, he loves to drive motorcycles – the bigger the better!
When he was 10 years old he learned about Phare during a training demonstration at the circus school. He knew right then he wanted to be a famous artist… when he saw the performers doing their moves, he had a feeling inside that he could do those things too.
It turned out to be harder than he thought, but he took it step by step and grew his skills.  Before long he was amazed by what he could do! Though he had his doubts during his practices – some of the moves were so difficult and he wasn't always successful when he tried them. But something happened when he would perform in front of an audience…if he could do a move at all during a practice, then he could always do it for an audience – and better than he had ever done it alone!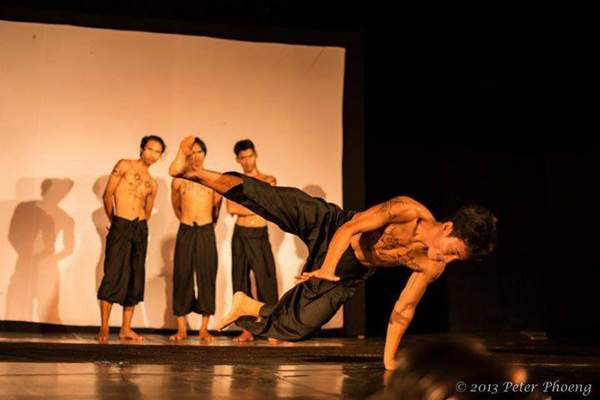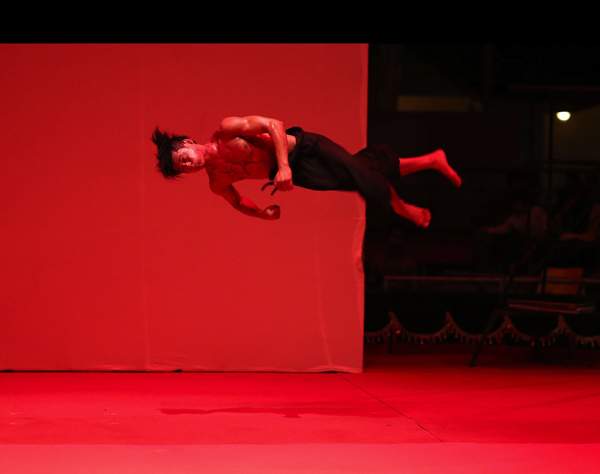 What does he love most about his job? He likes to be "in character" more than anything as a performer. He gets to turn off his everyday self and assume the intensity of his character. He focuses his mind on the essence of the character, takes on those emotions in an entirely real way, and doesn't return to his true self until the show is over. This is an especially raw experience to observe in his current piece, Eclipse, where he is seen as an outcast who must earn his place amongst his peers.
His favorite trick? The bascule (French for "seesaw") because it's the closest thing a person can feel to flying! Sambath excels past his peers in this part of the show… He sails higher then the other acrobats and achieves more flipping rotations than anyone else as well. If you're able to see Eclipse, you'll understand entirely, as the crowd always cheers during the show's finale.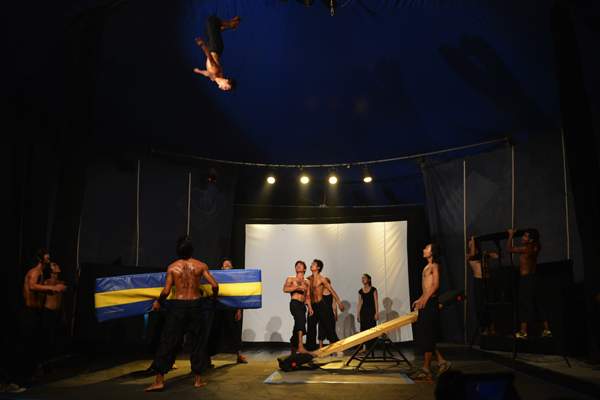 In the future? Though he is hoping to spend some time in Europe to perform and earn money, Sambath eventually is looking forward to getting back to his roots. Farming. His mother still works hard on the family farm and he wishes he could be there to help, but he is always traveling to perform in Siem Reap and beyond.  He enjoys it, but he said farming will always feel like home to him.
Check our schedule here and see when Eclipse is showing… you'll see the closest thing possible to a human being that can fly, and afterwards he's always happy to clown around and pose for a picture!…