By: Arthur Nguyen dao
Some students get to study abroad and get a highly meaningful and valuable experience for themselves and Phare Ponleu Selpak. Meet Hiek Vila, who comes back after two years in France.
Vila started to learn in Phare Ponleu Selpak in 2003. In 2018, when he was 18 and created Sonleuk Thmey with four friends who graduated from Phare. It is a both professionalizing and professional graphic design studio. He stayed with them until 2012.
Thanks to the support of Phare Ponleu Selpak, the schools in France and scholarships he was able to stay two years in France. He spent one year in Nantes in the Pivaut School and one year in Rennes in MJM Graphic Design to learn computer graphics and graphic design.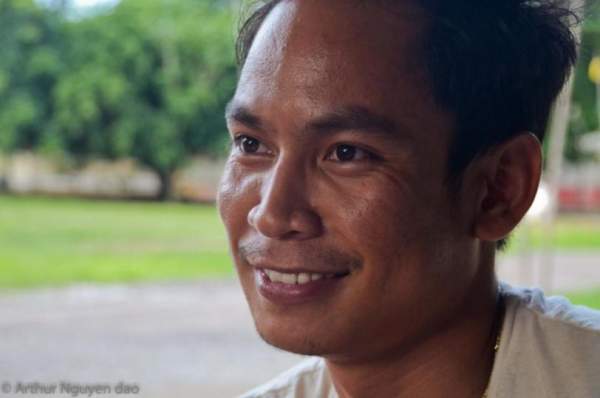 Today, Vila talks about his experience in France.
"At the beginning it was very difficult for me. First, the temperature choc was hard to cope with. Then the language barrier was very high. I had learnt French for only a few months before coming to France and not many people spoke English in the school so it was very hard to understand the exercises and instructions given by the professors." But luckily enough he made a friend who was able to translate into English when he could not get what was happening. During his second year, he was in a foster family which was much better, "it helped me a lot to improve my level in French."
"France was an opening experience for me, it opened my eyes to the world."
"I traveled in Europe and got to see many different cultures. I also did the washing up in pizzeria which both allowed me to save for my family and was an eye opener to the fact that Europeans also do struggle in their own way. Even though Europe is richer, life is nonetheless sometimes not easy."
Vila explains that as an artist, France was an incredible source of inspiration because of the decorations, shops and boutiques that can be found everywhere. There are many people working in graphic design and an incredible amount of opportunities is given. On the contrary, the situation in Cambodia is quite different. "Of course, people do like good designs but there is not a great value attached to the work of designers and creation is not really well paid. There is usually no money to pay graphic designers."
In Pivaut School, he learnt applied arts, typography, painting, illustration, packaging, and modeling. "I also learnt a lot about the techniques and the classification of the different techniques which was both interesting and difficult. It was difficult for me because there are not enough words in Khmer to describe all the techniques. For instance, the equivalent to "painting" in Khmer is the idea of drawing something so it includes different techniques such as painting and drawing." It was basically a reinforcement of all his existing knowledge enriched with new teachings.
On the contrary, the MJM Graphic Design School was specialization in computer graphics. For the end-of-year project, the students had to do the entire graphic material for a famous French fish canning enterprise, from the graphic charter to the packaging and the communication material such as the website or posters. I did my homework and what Vila does not tell me is that he graduated from MJM being top of his class. So I ask him why he thinks he was the one to graduate top of his class and not someone else.
"I think it is because I work and research more than anyone. It is good but in the same time it is tricky because I receive even more tasks so it can get really exhausting. For example, I had to work on a second project for the opera of Rennes while working on the end-of-year project."
Back in Cambodia, the experience visibly changed him a lot.
"I learnt a lot, I have been stimulated constantly and now I think differently."
"My work has never really been very "Khmer". I have constantly worked and researched a lot so I have always had other important influences."
For the next 3 year, Vila will be a teacher in Phare Ponleu Selpak and then he says he will see what the future holds for him. "I know Phare very well and I do want to help but I also think about my career. I want to succeed on my own with the tools Phare and my experience in France gave me."
"Today, I share but I am not a teacher. I do not like this word because in Cambodia the teachers are highly respected but they are not accessible persons. For me it is very important to be respected in the classroom but I also want to have discussions and debates. Outside the classroom I want to be considered as a friend with whom you can have a drink and discuss, not as the teacher."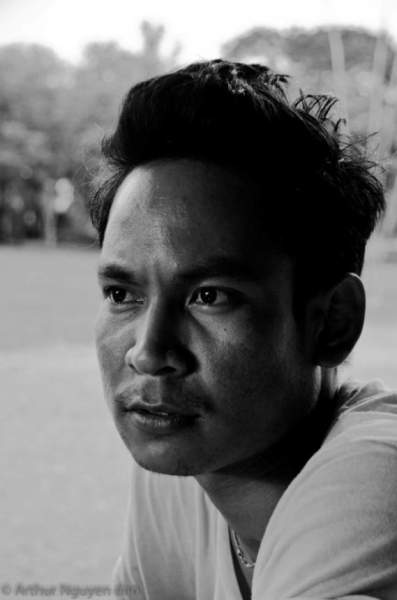 "I am not a teacher. I am a friend who shares."
Vila is perfectly aware of the importance of owning a land in Siem Reap because Phare Ponleu Selpak could get financial stability from it. "But if I may add my graphic designer perspective I would like to talk about the communication work done by Phare, the Cambodian Circus. The designs used in Siem Reap to advertise and communicate about the circus are all made by former Phare students, which is really good in terms of professional achievements. However, I think that creating designs is a long-term and difficult task. More graphic designers should be involved so that they can have more time for creation and research."