Behind the Scenes: Chills Musicians
By: Ngor Lyseang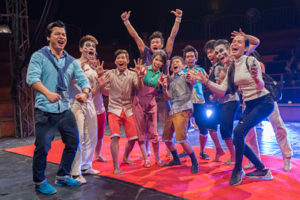 Chills is the story of a group of students who is haunted by two ghosts. It's a funny and spooky show full of aerial acrobatics and high-energy group acts. It also has a playful score performed live by three talented musicians, Pitou, Bora and Danith. All three are graduates of the music school at Phare Ponleu Selpak in Battambang. Here's what they think about the show and what it's like to be a circus musician.
---
Pov Pitou started attending school at Phare Ponleu Selpak in 2007 and he began performing in 2009 in the show Kon Khmoch.  He later joined the show Chills, which he's still a part of now. He plays a mix of western and traditional Khmer instruments the Roneat (Cambodian xylophone), Khim (a type of hammered dulcimer), Tro (a bowed string instrument made from coconut and animal skin), Skor (Khmer drum made from wood and and animal skin), as well as guitar and bass. He says his favorite instruments are the Roneat and Skor. In the future, when he retires from Phare, he wants to be a music teacher.
---
Pho Bora joined Phare Ponleu Selpak in Battambang 10 years ago and he moved to Siem Reap in 2013.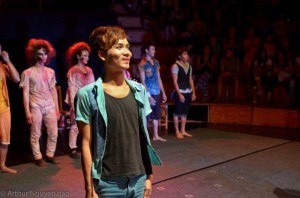 Bora started learning music in 2004. After studying for six months he started performing. He performed with many different student groups at Phare. He performed in the shows Phum Style, Holiday, Chills and Ontong. Bora has traveled to many countries as part of his studies with Phare including France, Portugal, Belgium, The Netherlands, Japan, Laos. He plays the Roneat Dek, Roneat ek, Roneat Thong, Kong Toch ,Kong Thom, Khim, Khloy and Skor. His favorite instruments are the Roneat, and Khim. In the future he wants to make something new, to create new music to play in a Phare show. After he retires from Phare, he wants to run his own business or work as an accountant. In fact, in addition to performing in Chills, he currently works as an intern in the Phare accounting department.
---
Deab Danith joined Phare Ponleu Selpak in grade 7.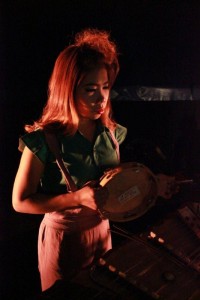 When she first came to school she didn't like music so much, but her mother wanted her to learn to play Khmer instrument, so she decided to try and found out that she was a good musician. As part of her studies at Phare she performed in Germany in 2010.  She can play perfectly the Roneat and Khim, but the instrument she loves most is the Khsae Deav. She says she wants to learn to play  the Khsae Deav, but it's difficult to learn and she needs to find a teacher. She has performed in many Phare shows, and is now performing in Chills. In the future, when she retires from Phare, she wants to start her own souvenir shop.
---
---
Read more about Chills.
Meet Vanthan Ly, another Phare musician, who composes most of the scores for our shows.