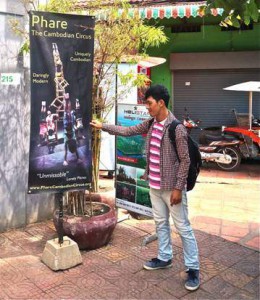 Meet Titya, our Street Marketer. He came on-board with us at the start of 2014 and here is a little glimpse inside his weekly workload in Siem Reap:
•    Hotels visited: 70
•    Flyers distributed: 1000
•    Most challenging part: The heat! Going from business to business all day during this part of the year is intensely hot no matter where you're from!
•    Favorite part of the job: Meeting the many people from around the world employed at the variety businesses in Siem Reap… this has really improved his communication skills and he can name nearly anyone's home country from the sound of their accent!

The number of hotels visited may seem high, but that number is not for all new hotels. Some of them are new, but we actually visit all of our hotels as frequently as possible, preferably every 2 weeks. This is because meeting once with hotel staff is not enough to keep us on their minds in terms of recommending Phare performances to their customers. In addition, the number of front-line staff at the larger hotels in Siem Reap is massive and Titya could visit the same hotel 4 times in a month and talk to an entirely different front office team each time! And then there's the management… getting a manager interested in Phare isn't always easy with their busy jobs, but if they are, it will mean more show-goers from the guests at their establishment for sure. Many of the managers in town do connect well with us as they know that good recommendations for things to do around town means better reviews for their hotels.
Lastly, I was able to stop in to Beyond Unique Escapes (BUE) with Titya to see if their staff needed any more marketing materials. BUE is one of our largest distributors of Phare tickets in Siem Reap and they know our shows as well as we do… you might notice they have video of our performances running constantly in their office!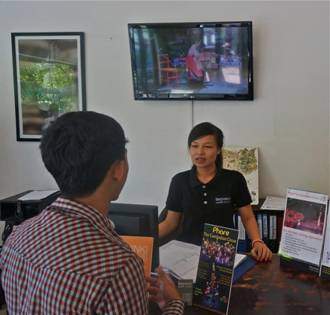 Their Phare page is here: http://www.beyonduniqueescapes.com/cambodia/unique-experiences/phare-the-cambodian-circus.html and you can link to a variety of their other tour options as well. We can vouch for the high quality of their tour packages and partners at BUE – they only work with the best companies and attractions in Siem Reap!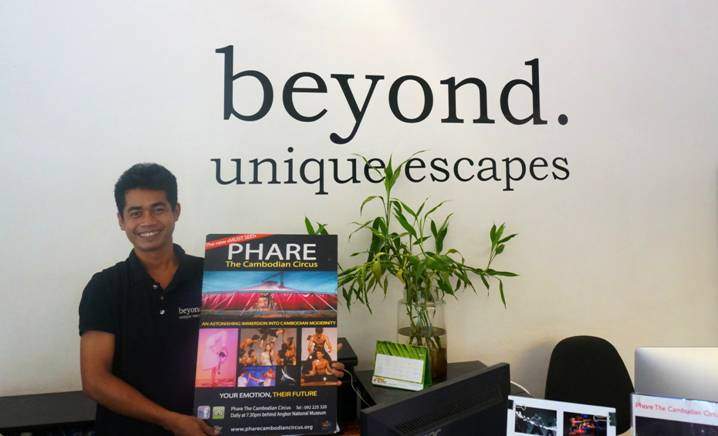 Thanks Tiya and the rest of our marketing team for all your hard work. The more travelers through Siem Reap who come to a Phare performance, the more happy faces you will see around town!