Responsible Tourism Cambodia – Intrepid Cambodia
By Emily Martin
The "Responsible Tourism Cambodia" blog series is concentrating on high-quality businesses who are dedicated to their social responsibility in Cambodia. All of these businesses focus on responsible tourism and are supporters of Phare and our social mission.
---
Intrepid Travel was founded 26 years ago by two Australian guys who wanted to travel differently.
They were sick of the same prescriptive travel itineraries that encouraged seeing the world from a bus window, stopping for photo stops along the way. The two founders wanted to start a way of travel where you were able to connect with the locals, learn about the culture and experience the country at a real grassroots level.
Jo Crisp is the general manager for the Cambodian branch of Intrepid and is passionate about the way of travel the company promotes and offers to people.
"Intrepid was built on the foundations of responsible tourism. In the 1980's responsible travel wasn't really talked about, people didn't understand what it was and it definitely wasn't as developed as it is today."
So how is Intrepid responsible in its travel style?
"It is ingrained in everything we do". For example, with a focus on smaller group sizes people are able to have genuine two-way interactions with the locals. "We have a lot of homestays where locals very much educate people about appropriate dress to wear, language skills and local culture." This local interaction encourages travellers to respect and admire the countries culture, helping to preserve and celebrate it.
"With every group there is a local group leader or guide as well as local representatives in different locations. These people are from the smaller communities that our tours visit." Not only do the travellers get to learn more about the particular community but it brings employment opportunities for the locals in more rural or less-frequented areas.
"The hosts have had really positive benefits from Intrepid. Homestays tend to be in communities near national parks where forestry and hunting have been an issue. By us actually going into that community and providing income through tourism we're preventing people from getting involved in things that are unstainable and we're providing benefits though tourism."
The homes we visit and individuals working as local guides in these communities are rotated and the money goes into a community fund so that all members of the community benefit– not just one family. Getting off the beaten track helps share the wealth more widely.
Intrepid Cambodia also strive to be traveller educators. "We see that part of our role is to educate people about responsible ways to travel in this country. To reduce waste generated by travellers, we provide ours with cotton 'say no to plastic bag shoulder bags' which are proudly made and printed by local community projects here in Siem Reap. We also recognize that our guests see confronting things while on the road. At many of the temples they see a lot of begging and children selling things. Rather than giving money to people begging, we encourage our travellers to support charities and organisations that we know are doing great things rather than fuelling the problem by supporting unsustainable practices."
As a business, they also support several local organizations, through the Intrepid Foundation.
"The Intrepid Foundation was set up by Intrepid but is a separate entity. It's a charitable organisation, people can make donations to the projects of their choosing, donations are matched by our business and 100% of donations reach the projects since the company covers the Foundation's operating costs.
All the projects which are supported have been audited and are run in a transparent way. "There's someone keeping an eye on them to make sure they are legitimate."
"We have a Responsible Travel department at our Head Office in Melbourne which oversees the businesses efforts to operate responsibly. In fact Intrepid was the first travel company in the world to do this. They are abreast of what's going on in the field of responsible travel… They look at best practice and provide us with advice… there is also a huge push from our staff and tour leaders who see what is happening on the ground. We live in the community and so we know what the issues are, we see what's run well and what's not."
Some of the projects Intrepid supports are ACCB, Green Gecko, Starfish and All Ears Cambodia.
"Our guides and leaders are very passionate about responsible tourism – 39/40 of them are Cambodians and a lot of them have come from underprivileged backgrounds. As a result they usually really want to give something back to the community themselves."
"We're here for the long term, I'm the only expat in the office and so the employees see what we are trying to achieve is for the long term future for them and their families. We want to preserve those things that are truly special about Cambodia…"
Intrepid's Top 12 tips for responsible tourism…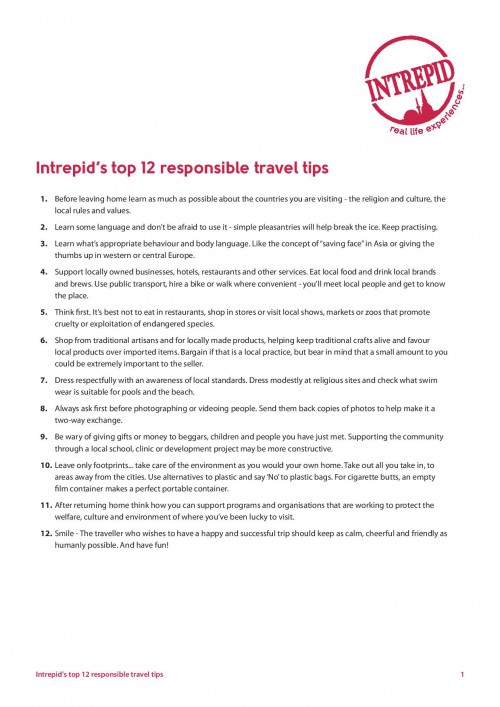 ---