UPDATE:
The Made in Cambodia Market has moved to it's new location, just across the street from Shinta Mani Angkor, where it all began.  MAP
Local Artisans United In One Market
Everyone is different. Some love the hustle and bustle of a touristic market. The bargaining, the haggling and the eventual triumph, although that triumph may be short lived when you realise you have been completely ripped off. That's part of the excitement of these transactions it can go either way. Perhaps in the favour of the seller who gets to make a big profit, or the buyer coming away with a steal. There are others not so equipped to navigate the fabulous frenzy.
The Angkor Night Market is one of the greatest experiences in Siem Reap, with it's bright colors, vibrant, cocky sellers and untold treasures. The Made In Cambodia Market is a different experience altogether and one that is setup to ensure both parties come away happy.
A Calmer Experience
This market, placed at the centre of Kings Road is an eclectic compilation of the most exciting examples of craftsmanship in Cambodia today. Goods from internationally recognized artisans and designers can be found, many of them originating from NGOs.
The lack of touristic traffic makes for a much calmer experience. Many of the store owners and artists have incredible stories and often tough backgrounds. At the Made in Cambodia Market you can connect meaning to your purchases as there is often someone there to tell you exactly where it came from and about the hands that crafted it.
All prices are marked up fairly for both buyer and seller so no need for any heated debates or timely squabbles.
"The main philosophy behind the Made in Cambodia Market is to Help Create Khmer Jobs; from the villagers producing the Handicrafts to the sellers interacting with the visitors." Made in Cambodia Market.
In a country where there is a need to rebuild creative culture, The Made In Cambodia Market provides fantastic opportunities for many Cambodians and allows them to be confident in showcasing their skill.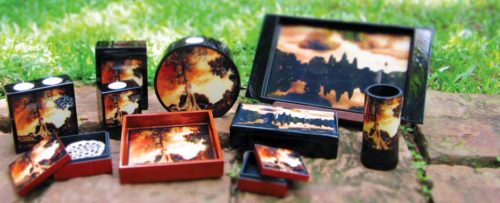 Cambolac, Art for the People
Saneth a young deaf Cambodian girl delighted in pointing out which products she had made. Santeth's work is brought to you by Cambolac, Art for the people.
Cambolac is a Cambodian handicraft company based in Siem Reap, designing and manufacturing lacquer ware souvenirs. Cambolac employs vulnerable people from Angkor's Park and hearing impaired young adults to manufacture and sell Cambolac original lacquered designs, art and hand painted souvenirs.
Ammo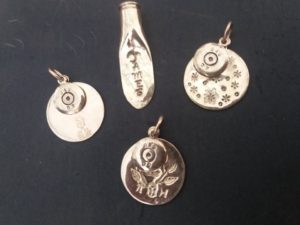 Ammo is an exciting brand of jewellery for men and women, hand-made in Cambodia. The collection uses recycled brass bullets and sterling silver, and has been designed by founder, Madeline Green.
Ammo jewellery Design provides apprenticeship training for young, disadvantaged or disabled Cambodians from Siem Reap province.
Their staff begin with 6 months of skills training, where they learn about metals, pattern making, forming, soldering, and finishing.
Once they have mastered the Ammo jewellery range, each student will then get to become an independant designer, and each week will have one day to design and create their own collections.
Ammo then help to sell their products to various outlets including the Made In Cambodia Market, and offer a percentage of the profits back to the designer and makers of each piece!
Rehash Trash
Rehash Trash is a Green Gecko social enterprise. Working with 100+ former street children and their 32 families over the past 10 years, Green Gecko firmly believes that the long term success of each child is strongly reliant on having long term solutions for their families.
Rehash Trash is a daily workshop that turns dirty roadside rubbish into beautifully bright homewares.
Sadly, Cambodia has a huge problem with plastic largely due to the tourism industry and lack of environmental education. Discarded plastic bags which are collected each day and are transformed into something long lastingly useful. Rehash Trash is not only making great products and cleaning up the environment, it is changing and empowering the lives of young mothers and their families. Each of the women attend a daily workshop 6 days a week, which includes an engaging Khmer literacy class where they learn how to read and write for the very first time.
Phare at the Made in Cambodia Market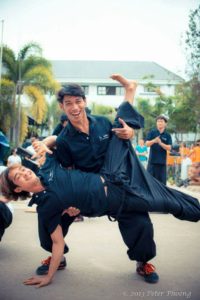 And best of all Phare the Cambodian Circus occasionally shows up for pop-up performances, and has been since the 2013 launch of the Made in Cambodia Market. These performances are a snippet of what our incredible artist can do and we can promise that you will be left intrigued, amazed and wanting to see more. The troupe will be there for you to chat to along with members of our staff who will be happy to give you more info about our nightly performances.
Keep an eye on their news section to stay in the loop and we will be sure to update our social media monthly to let you know when you can come and see us.
We fully support local businesses with locally produced goods, providing training and jobs to local crafts people and that is exactly what can be found at Made in Cambodia Market.