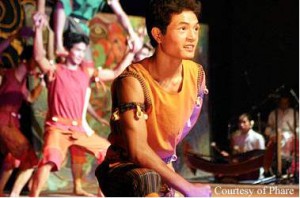 A Brief Talk With the Man Behind the Talent:
As a first generation student from Phare Ponleu Selpak's circus cohort, now lead circus coach, Bunthoeun, did not have the luxury of mats for tumbling, spotting belts, or older students to model the movements. Workouts were done by tumbling in the sand for cushioning, lifting sacks of rice, and even using old truck tires to produce the springing effect of a vault or trampoline.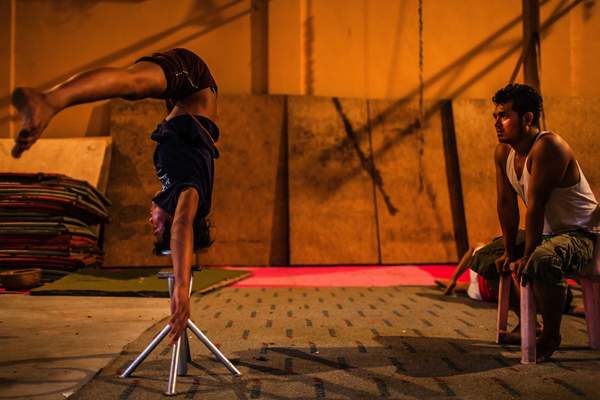 From working temporarily with a Phnom Penh circus school, a circus teacher from France, and one of PPS's founders, Khuon Det, researched the long history of circus in Cambodia along with classic circus arts disciplines. He played a pivotal roll in fostering Bunthoeun's interest in circus arts.
Bunthoeun was 9 years old when he first stepped into the art school and saw a small circus demonstration from some visiting teachers being presented at the school site. Sure he had help as he began his training shortly thereafter, but not much later Bunthoeun amazingly began to excell in almost every discipline circus arts has to offer… To this day students still watch videos of Bunthoeun's tumbling routines – and his hand balancing skills remain legendary as well. But then there was still his juggling, rola bola, and partner acrobatic skills which could match or exceed that of any other of the school's artists. Check out these tumbling skills taken some years back:
[youtube https://www.youtube.com/watch?v=T1laPdt337g]
Now in his late 20's Bunthoeun was a top performer in Phare's smaller Battambang productions beginning at age 13. Weird was his last performance (presented in Siem Reap) which told the story of a real Khmer family who was visited by spirits who told the father to teach their children well to lead future generations properly. And what a fitting performance for the school's lead coach! – Who now leads dozens of circus students as they develop their skills.
What does Bunthoeun expect to see in the circus school's future? More structure and discipline amongst the students… he sees this on the way already and is working to create stronger connections between students and teachers, as well as the administration of the school. He also wants the school to be recognized internationally for the standards the circus students achieve – and to attract foreign students interest in the school because through its renowned artists and reputation.
And, despite being stern and highly respected coach, and also having let his owning training wane as he has spent most of his time coaching in the past few years, Bunthoeun still like to clown around and test out his old skills on occasion…
[youtube https://www.youtube.com/watch?v=aG-YQZMB0jA]
If you want to learn more about Bunthoeun, have a look at this amazing and close personal interview done just over a year ago: http://jorgerphotography.com/project/houn-bonthoeun/