Home for Phare
Please help Phare secure a permanent home for our artists to earn a living and support themselves and their families.
[youtube https://www.youtube.com/watch?v=drJkdbAsh-k]
Since February 2013, Phare artists have come to Siem Reap and astonished audiences at nightly shows with their passion, emotion, enthusiasm, dedication and talent. They perform in an authentic, traditional red big top in the center of Siem Reap that seats over 300 people.
Enter: Phare the Cambodian Circus. What better place in Cambodia for a daily circus show than the home of the World Heritage Site and Wonder of the World, Angkor temples. The results are overwhelming, becoming the top-rated Siem Reap activity on TripAdvisor (see HERE) and Lonely Planet (see HERE).
•    "Exceeded expectations massively" (TripAdvisor review, August 9th, 2014)
•    "We attended this circus last night and were just overwhelmed with how talented these performers are and how passionate they are about their art." (TripAdvisor review, August 8th, 2014)
•    "The actors were talented but the best part was their smile! Professional artists many time became just professionals without the passion or the love of their art but these young guys were smiling all the way." (TripAdvisor review, August 7th, 2014)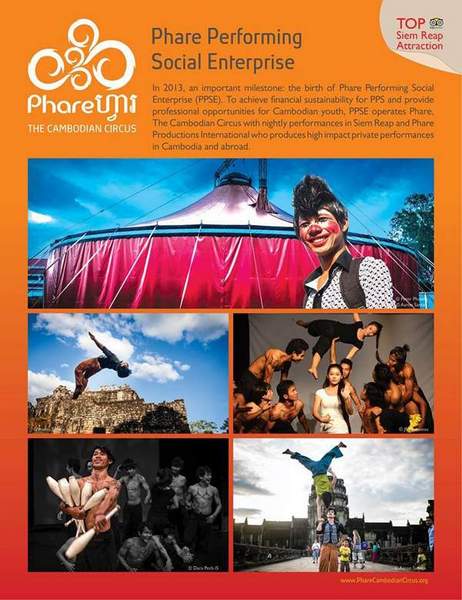 A permanent home means a secure, stable future
The big top in Siem Reap is on rented land, which means high cost and an uncertain future. Rent is increasing dramatically, terms are becoming difficult and rent contracts are easily broken. To provide a more secure, stable source of employment for the artists, Phare needs to purchase land for a permanent site. Owning our own land protects against cost increases, which means more income goes to the artists and to the children of the school.
Land prices in Siem Reap are astronomically high and increasing fast, as a result of booming tourism industry. As a modest social enterprise, we can't compete with huge real-estate projects. In addition, we need well situated land in town, easily visible and accessible to tourists who only stay in town for a couple of days, but will cost a little bit more. With your help, a permanent site can be purchased and continued success and sustainability assured.
Photo: Quinn Ryan Mattingly
Finding land: The challenge
Siem Reap: growth of a tourist town: Booming tourism transformed a small, sleepy village into the tourism capital of Cambodia. The beautiful river passing through the city is now lined by restaurants, boutique hotels and the old central market, which acts as the town center. Traffic now jams the few roads that connect the city center with Angkor Archeological Park. A recently built ring road now circles the town and is used by travelers on their way to temples, the airport, Battambang and onward to the Thai border
Location, location, location: Land on this ring road presents the best location still within financial reach. Land there is not as costly as in the city center, but it is still visible and easily accessible. Utilities such as electricity, water and sewage are also available there. Most of the land in that area are actually rice paddy fields and will need to be filled with dirt to be raised to the level of the road, flattened and delimited.
Land size matters: 6,000 to 8,000 square meters is needed to set up our big top with a backstage training and dressing area for the artists, a restaurant, a gift shop, customer service area and enough parking space to accommodate coaches, cars and tuk tuks during the performance.
You can help: Your gift means the difference between a more certain or uncertain future for these young Cambodian artists. A permanent site assures them stable, gainful employment through the viability of the social enterprise.  Any contribution large or small will bring them one step closer. Please donate today and share this page with your friends, family and co-workers. Please share the story on your blog, social media page and in personal emails to your network.
Tipping Point Goal: $50,000
Total Funding Goal: $200,000
Reaching our tipping point
US$ 50,000 will allow us to make the first payment on a permanent, secure home for the performance venue! The artists who pour so much of their passion, effort and emotion into their craft will have more certain job prospects and a brighter future. The money raised will be solely dedicated to buying the land. You can be sure that your donation will have maximum impact on artists and children throughout the organization.
Our total goal
The total cost of the land purchase and site construction will be slightly over US$500,000. The difference between donations received and total cost will be made up for by loans with interest. The less that has to be borrowed means more can go to those who need it the most; the artists, their families and the children educated by the organization.
Video by Lauren Shaw from Angkor's Children:
[youtube https://www.youtube.com/watch?v=IaKPy5611Nk]
– Make your contribution at: http://startsomegood.com/homeforphare