From the Siem Reap Post  – The story of a poor boy, who could only spare 20 minutes a day to play at the Circus school, and now …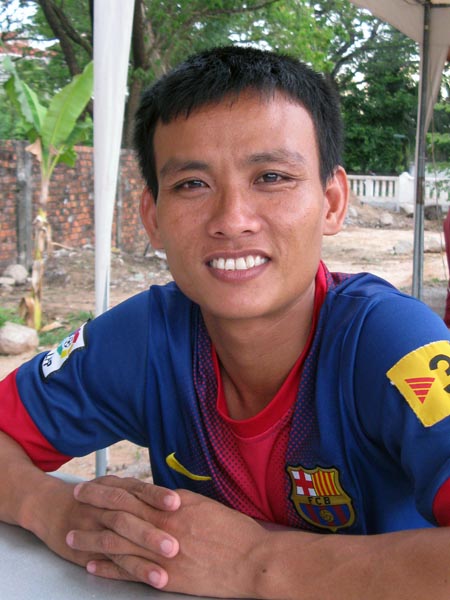 I had been promised an interview with one of the cast of Tchamlaek, and we set this one up with Chamroeun. He is the stage director for Tchamlaek and is a generation 1 artist of Phare Ponleu Selpak. His English is poor (he does speak fluent French), so he told his story to Xavier, who translated it to me. It was told as a monologue, rather than a question and answer session, so I have printed it as such.
"I was born in Vietnam and came to Cambodia when I was 5. We moved to Banteay Meanchey Province and we were extremely poor. Our family had nothing. We had no house, no land, nothing. We could get a little bit of land, but it was far out in the rice fields and was very hard to work. The only thing I could do to get money was catch the very small shrimp you use to make shrimp paste. Eventually my mother and sister went to Battambang. My mother could make bread and she hoped to get a job there doing that. I stayed with my father. It was a desperately bad life and I don't remember too much about it.
"After a few years, my father and I joined my mother in Battambang. We still didn't have a house, we lived in a tent. This was a few pieces of old cloth, propped up with bamboo poles. We asked some friendly people for permission to settle on their land and we built a bamboo hut. At 12 I was working a lot to support the family. In the morning I would draw water from the river and take it to water the vegetables. I could do 100 lifts of water in a morning. In the afternoon I sold cakes and bread that my mother had baked.
"My father was very violent and he was an alcoholic. He used to hit the family and treat us very badly. By accident I found Phare. They had their circus school just 100m from my house. I didn't know about them until one day they put up a tent and I saw that. One of my friends, a neighbour, used to go there. I was too shy to go in the front entrance and so I crept in through a hole in the fence. At first, I would join in by copying the other students. I would try to copy the jumps and other things. But I was very shy. I did not want anyone to see me. Eventually though, the Director, whose name was Det, noticed me and he asked me to join the school.
"My workload was still too heavy though. I managed to spare 20 minutes each day to join in, but I had to work and could not stay for the full 2 hour rehearsal. I have to tell you how happy I was at the circus. My home life was a mess. We did not have enough money and were very frequently short of food. The 20 minutes I spent each day at the circus was an escape for me. It was the most beautiful part of my day. I never saw the show. I did not know what a show would be like. The only sort of show I'd ever seen was when a Chinese Medicine Man came though town. He would put on all sorts of acts to show how potent his medicine was. This was the only show I knew.
"My parents were against it. They thought it was a waste of time and couldn't see any advantage for me. So I had to rehearse in secret. At one time I went out with the first shows Pare ever did. These were simple. We went out on the back of a pickup truck and the were more social awareness shows with a little bit of circus thrown in. I was given some food by the circus, but no money. All this time I was really happy. It gave me a new life. I was determined to go on with the shows and the training. Of course in those days the circus was very different from today. We had no mattresses to land on when we jumped and the ground was just dirt or gravel.
"After a few months, Det and another Director, Jean Christophe, saw that I had talent. They arranged for me to be sent to a circus school in France. I was 18 at the time. I had never been anywhere and this was a great adventure for me. I stayed there one year and learned so much. However, when I got back, I found things had gone very badly with the family while I was away. My mother had got fed up with the abuse from my father, and had fled back to Vietnam with my sister. My father was still an active alcoholic and left to Vietnam as well to try to find my mother. Coming back from France, I went to Vietnam with my Det and Jean Christophe to look for my family. After a long search, we found my mother and my sister living in an extremely bad situation and convinced them to come back to Battambang. Then my father came back by himself. Slowly the family stabilised. We had a house and my father stopped drinking. He did, however use drugs to control the drinking and he was still a troubled man.
"I remember the first big show Phare made. It was called Bong Touch Bong Thom & Co (The Gang) and it was well accepted by the public. That was in 2003/4. After that life for me just got better and better. There were many shows. One I particularly remember was Four to Five. That went to Europe and I went with it. Now, I have performed in many countries; Japan, Korea, Philippines, Spain, Algeria, Italy, France – so many places.
"At first life was not easy for my mother and sister. But slowly their standard of living went up too. I built my own house in 2010. It's a nice house, well built. I am married and have two children of my own. We have a third on the way. When I think back of the different lives of three generations: my parents were brought up under the Vietnamese USA war then the Cambodian civil war and I can't imagine what that must be like. My own childhood was so tough. Now my children have a good time. I tell them a few stories of the past, but I want them to be happy and not dwell on the sad life I had before. They are at school, learning English and many other things. I remember I only had a short time at school when I was around 10. But I could not pick up the gap in my education. I could not make up for the years I'd missed. My parents are still together. My father doesn't drink, and is no longer violent towards my mother, but he is not a social man. I am determined to give my own children a better life than I had. Now, thanks to Phare, I have a great life and I am very happy."
And that was that. An amazing story from an amazing man. However, Xavier went on to remind me that this was not a unique story. Every child that goes through Phare has a similar tale. Their work continues today helping children to a better life. The school is looking for opportunities for students in Cambodia. They can not rely on travelling shows for everyone.
I'd like to pass on my appreciation to people like Det, and Jean Christophe; and to Xavier and Dara in Siem Reap for the work they do. I'd also like to thank Chamroeun for sitting with me and speaking about his past. It brings new light to my eyes what these people have come through to get where they are today. It also shows me what determination the cast of Phare have: not only to master the circus skills, but to overcome the trials life throws at them.
You can see the Phare show every day at their ground behind the National Museum at 8:00. Who knows, you just might see Chamroeun… If you do, or while you're watching the show, just think what has gone into the making of it.
I would like to finish with a quote from an unknown source, but I feel it applies to every teacher at Phare, and particularly to the visionaries such as Det and Jean Christophe.
Fifty years from now it will not matter what kind of car you drove, what kind of house you lived in, how much you had in your bank account, or what your clothes looked like. But the world may be a little better because you were important in the life of a child.