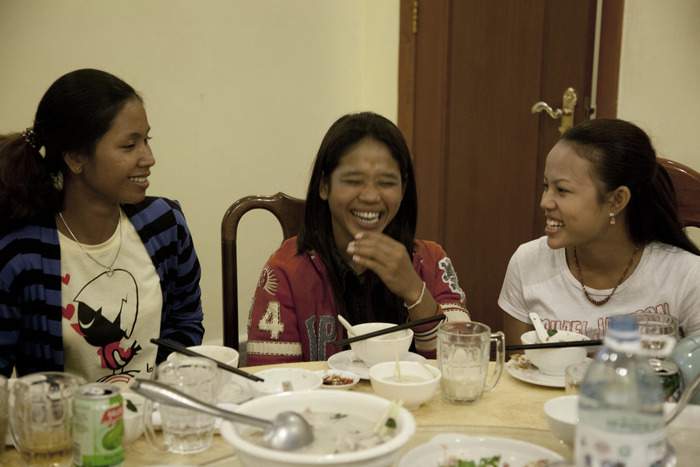 A documentary directed by Lauren Shaw
Angkor's Children is a film about Cambodia's cultural and artistic renaissance told through the voices of three young Cambodian women, including our own Phunam Pin.  The project focuses on the revival of the arts in Khmer culture, and how women like these outstanding examples are helping to bring back much needed creativity to the country's people and culture.
Against a backdrop of poverty and lingering holocaust memories, a young singer, a contortionist, and a leader of a grassroots protest band break from their traditional roles through unique and unexpected art forms, setting a new bar for women in Cambodia. These young women are born out of a country hardly in recovery from a genocide that killed 2 million people between 1975-1979. They are caught in a sideshow of development, or lack thereof, which can only make their individual lights that much brighter. They have broken out of the culture that views women as white cloth that can easily be soiled and never washed clean, while men are gold that shines bright no matter what. The outcome of these three young women is uncertain in terms of success, but their trajectories and stories intersect, overlap and interweave in our film as brave pioneers of a new Cambodia of the 21st century. By telling their stories now, while they are still in the making, we see Angkor's Children as a vehicle for other young men and women to use art in gaining power within societies that so often deny freedom of expression.
All of these young Cambodians, through their art are turning the thirty year 'killing fields' legacy of Cambodia on its head and providing a fresh and exciting, albeit struggling, new culture that is emerging from the ashes. Their mission is to inspire this new generation of Cambodians through the rebirth of their cultural identity as well as challenge the traditional roles of women in Cambodia. They are working against the backdrop of a country filled with challenges and obstacles, but their story is of a country filled with hope and determination.
Sreypov, Phunam, and Messenger Band have stepped out of the dark past of their parents and grandparents by expressing the resiliency of Cambodia through their art and advocacy. We witness their challenges, hardships, and accomplishments as they find their identity and rebuild their national culture. In doing so, they are pioneers, and as such, are part of a global movement of women who are changing and inspiring the world. ANGKOR'S CHILDREN is a film of hope for post-conflict nations that are also seeking renewal through cultural and artistic expression.
Please take moment to watch the video and consider supporting this worthy project on their Kickstarter fundraising page.