Amon Miyamoto's "Terrace of the Leper King"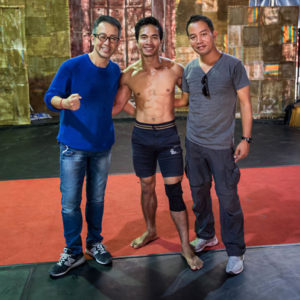 As part of our Artist Placement Program to help Phare artists launch international careers, we're happy to announce that Bo Ratha will play a lead role in Amon Miyamoto's upcoming production of "Terrace of the Leper King" at the Akasaka ACT Theater in Tokyo, Japan from March 4-17, 2016 for 16 performances and in Singapore from August 25-27. 2016 for three performances.
---
The last play written by famed Japanese author Yukio Mishima, "Terrace of the Leper King" is the story of the construction of Bayon temple, one of the major temples within Angkor Archeological Park, along with Angkor Wat and Angkor Thom. The play follows King Jayavarman VII as he oversees construction while battling increasingly severe leprosy. He goes blind as the temple nears completion and dies just as the last stone is laid. In the play's last scene, the soul of the dead king speaks with his younger body. The body says the soul itself is leprosy, while it, the untouched, beautiful, young body represents the timeless beauty of Bayon.
Bo Ratha will play the god that King Jayavarman VII worships. During casting, producers said they were impressed by his "unmatched grace".  Bo Ratha is an aerial strap and hand balance artist who most often performs with the show "Eclipse". He started studying circus at Phare Ponleu Selpak circus school in 2004, and went on to study further in Hanoi, Vietnam and Rosny, France, where he specialised in aerial strap.
This week, Amon Miyamoto visited the Phare big top in Siem Reap to meet with Bo Ratha and finalise details of his performance.  Here are some behind the scenes shots.
(All photos by Scott Sharick 2015)
---
Read more about Bo Ratha here.
Read more about Phare's Artist Placement Program here.