1. Circus makes you happier.
If you were wondering whether circus is also considered a recreational activity, you are right. And with every physical activity we do, be it practicing a handstand or balancing on a rope, our body releases chemicals called endorphins. Endorphins are released while we exercise and reduce our perception of pain. These endorphins trigger a positive feeling in the body, make us feel good and give us a positive outlook on life.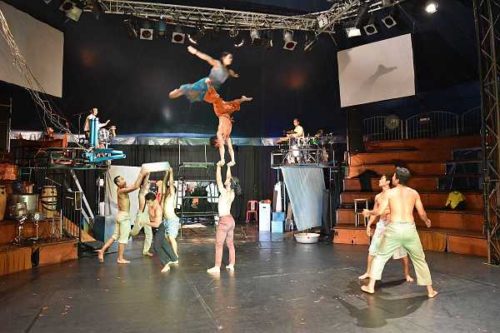 2. Circus builds community
Circus build a community of circus performers that trust and rely on one another. Circus on a bigger scale brings the art of circus to many more people within the community. Phare's community starts in Battambang where youth learn and perfect all circus skills. Then the circus community expanded in Siem Reap with daily shows and workshops to locals and international visitors. The community that circus creates has no boarder, no passport and no judgement; increasing trust in international encounters with enthusiasts and professionals alike.

3. Circus is a creative outlet
Phare students and performers practice a circus skill with the pure joy of being able to express who they are or what they are feeling. Circus allows us to create art that is purely physical and full of emotion. It's important to have an outlet for our emotions, feelings, worries – even joys. So when you feel stressed, find some balls that you can through into the air. You'll be surpised what effect it will have on you.

4. Circus helps create a positive body image
The idea that our bodies need to look a certain way in order to perform a circus skill is an illusion. You may think that our bodies are not perfect, but secretly, they are – AND no matter what body shape or height you have, circus bodies are all STRONG and talented. Be proud the body you have, celebrate your strong areas and work on the weaker ones. Mastering circus takes time and discipline.
5. Circus is inspiring
Circus can inspire you to learn, grow, have more discipline, build strength, coordination, create an entire routine by yourself and open your life in ways you never thought possible. Dare to inspire and be inspired by others.
---
Excerpt from the American Circus Educators Magazine.