UPDATE:
The current answer to the question "When is the best time to visit Cambodia?" is NOW! Cambodia has one of the highest COVID vaccination rates in the world, making it one of the safest places to visit. Vaccinated travelers face no quarantine or other restrictions after passing pre-flight and arrival COVID tests. There will likely never be another opportunity to visit Angkor temples without crowds. Therefore, NOW is the best time to visit Cambodia.
Visit Cambodia during rainy season.
Do you ever find yourself longing for rain?
Living in a rural village outside of Siem Reap and being an avid bicyclist, I'm very aware of road conditions. Writing this in the middle of dry season (November – April), I'm reminded how dusty things are during this long period without rain. I'm missing the rain.
The busier tourist season corresponds to dry season, but we want to share with you why to visit Cambodia in rainy low season.
---
Refreshing rain!
When visitors come to Cambodia, it's most likely to see the World Heritage Site and Wonder of the World – Angkor Wat. Concerned about heavy rain, many choose to come during the drier 'high season'. Who wants their sightseeing plans interrupted by rain?
In fact, the rainy 'low season' is not as bad as what people think. There are even many positive aspects that may change your mind visiting Cambodia in low season.
Cambodia has two seasons: dry and rainy. From November to April is dry season with ideal temperature until March and then much hotter temperatures. This corresponds to the high tourist season. May to October is the wet season, or as locals refer to it: "green season". It's less hot than the March-April.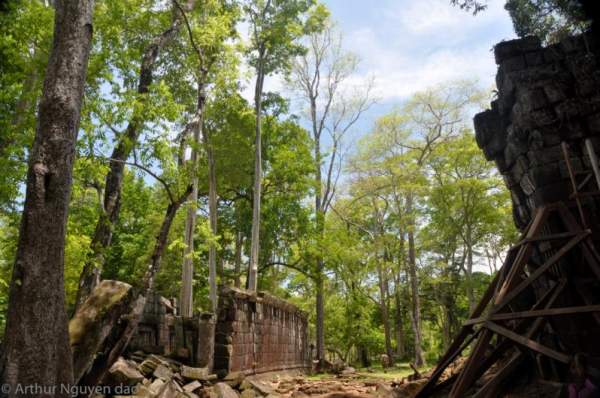 Does it rain all day?
You might read that Cambodia is flooded during the monsoon season and that it is raining all day. Truth is, it does not rain that much. From June to August, it may rain almost every day, but brief tropical showers. So it is easy to plan the daily schedule around the rainy hours. When it rains, it is also a good excuse to go to a sheltered place and enjoy a local ice-coffee, a fruit shake or some local cuisine.
Cambodia is in South East Asia so it's usually on the 'warm' side. The rains cool things down, making the climate very enjoyable. For the travelers who are eager to experience the monsoons like a native Cambodian, rent a bicycle or get a Moto-taxi, buy an extremely cheap and very colorful plastic bag poncho-raincoat and this is it!
Flora and fauna in rainy season
Low season is not called the green season for nothing. Thanks to the abundant water, the Tonle Sap – the largest freshwater lake in South East Asia – reaches its highest level. Ponds and waterfalls are flowing through lush vegetation. It's a great moment to visit the floating villages and markets. Take your time to admire the water birds and the fishermen casting their nets. The countryside is full of colors and it is great to wander in the endless shining rice fields and look at the massive and calm buffalo bathing. Sunsets are much more mind blowing with the dance of light and clouds than it is in dry season when there are almost no clouds.
Angkor Temples in rainy season
The temple experience is also very different during rainy season. Overall, the roads are less dusty, rather muddy after the rain, but you breathe much less dust which makes a great difference. The temples sparkle after their daily shower and the bas-reliefs are glimmering with the reflection of the sun. One really nice thing is that the stones keep the temperature at a lower level thus making the interior breezier. But the best thing is that you do not have to cope with crowds of tourists. On the contrary, you have the time and space to absorb the ambiance and enjoy the refined Khmer architecture.
Photo opportunities
For photography lovers, it is simply the best moment, not only for nature pictures, but also for people pictures. Cambodians are known for their smiles, but during rainy season it is even stronger because they are happy that the weather is "cold". Cambodians are not shy and they love to be on pictures but it is always better to ask. And don't forget to show them your pictures, they love it! Awesome photography tours available through Angkor Photography Tours.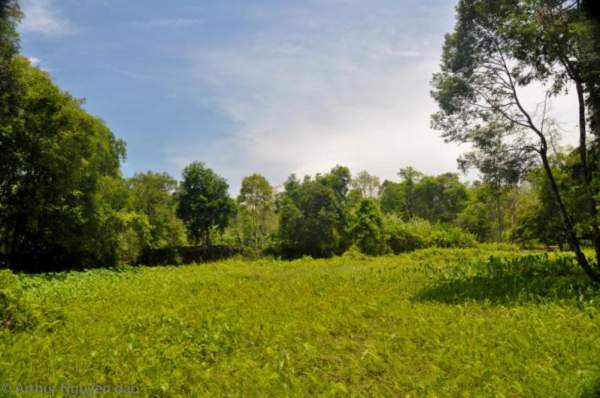 Less expensive and fewer visitors in rainy season
On a more practical aspect, it is less expensive to travel around Cambodia in low season. Transportation is cheaper, it is easier to bargain in markets and souvenir shops, and accommodation is usually discounted.
The travelers sensitive to responsible tourism will also note that there are two fixed seasons for tourism. This creates an imbalance for local businesses and workers. Many locals can only get a job during high season and lots of businesses struggle to survive during low season. So, traveling off season is a way of supporting Cambodian development, too.
All that is pretty exhausting and by dusk you may want to relax. Even in low season the well-known Pub Street is pretty packed. Alternatively, you can go to an indoor performance with refreshing air conditioning to start your nightlife. Is there a better way to relax and enjoy astounding entertainment than Phare Circus? Get your tickets HERE.