Meet The Stars: Chhoun Chandan (Loyl Nash)
By Vattanak Chou
Chhoun Chandan is a circus artist who specializes in Rola Bola and plays several roles, from "child" to "Pol Pot", in the show "Sokha". He grew up in Battambang and attended the Performing Arts School at Phare Ponleu Selpak. He goes by the nickname "Loyl", which translates to "cool".
---

Q: How long have you been with Phare?
I started to study at Phare in 1998, and in total I've been with Phare for ten years as a student and one year and a half as a professional performer .
Q: Where are you from? 
I'm from Battambang province. I was born into a poor family. When I was young, my family got support, like some meals, from NGOs and charities. I also worked small jobs, like selling things in the market, to help my family .
Q: How did you first come to Phare Ponleu Selpak?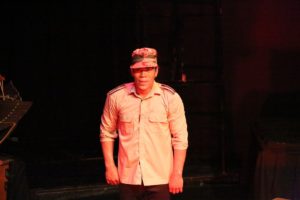 I had never heard of Phare Ponleu Selpak, but the one of my friends went to study there and told me about it. He told me there was a circus school and that they taught painting. So I started attending the school. The first week I studied, but I realized I don't have those skills. So I changed to study circus with Teacher Khoun Det.  I graduated from Phare Ponleu Selpak in 2008.
Q: What do you like about being an artist? 
Being an artist always had great meaning for me. I saw that circus arts can make my life and my family better than before. I was invited go to many counties for performance and exchange experiences with other artists.
Q: What is your favorite show at Phare?
"Sokha" is my favorite show and my favorite part of the show is when all the children run away from Khmer Rouge and the bombs are dropped from an airplane. It feels to me like living the real thing.
Q: What would you do if you weren't an artist?
If I did not study circus, I think it would have been hard for me to live in this country. I don't have high professional knowledge of anything else, so maybe I would have stolen from people to survive, or been a trash picker.
Q: What is your life like now outside of work?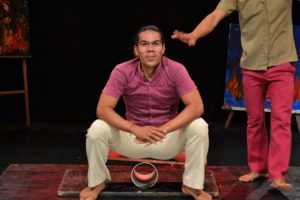 Now I'm in a relationship and I live in Battambang province. In my free time, I go to Phare Ponleu Selpak for training and improving my skills. I also like to play sports, go to the gym, and spend time with my family and my child.
Q: What are your hopes for the future? 
I think maybe in the future I can't continue to be a circus artist because I'm getting too old. But if I have have a chance, I would like to teach the younger generation about circus arts and maybe one day I will open a small business by my self .
---
Read more about "Sokha"
Read more about other artists at Phare