JOBS – JOIN THE PHARE CIRCUS TEAM
For more information about employment or volunteering at Phare, please e-mail the Human Resources Manager at: hr@pharecircus.org or contact us via our website.
To offer your services as a volunteer, please include in your e-mail specifically what you would contribute during your time at Phare.
Job Opportunities
Phare, The Cambodian Circus
Phare Creative Studio
To apply, please send your resume / CV to: hr@pharecircus.org
Please check back regularly for openings.
Volunteer Opportunities
We welcome committed and passionate volunteers who have specific expertise or experience which fills a current need. Those needs change over time, but some examples of skills often needed are in social media, communications, IT, lighting and sound design, merchandising and customer service. Although most artistic training happens at Phare Ponleu Selpak NGO school in Battambang, volunteers with circus arts, music, drama or other performing arts skills are welcome to make a proposal for how they would use a volunteer opportunity to develop the skills of the Phare artists.
Due to financial and human resources limitations, we are unable to offer internships.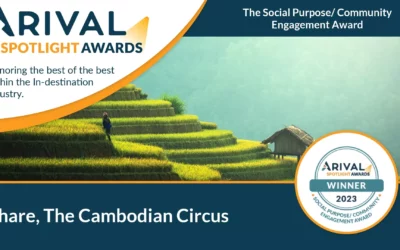 Join us to celebrate winning the Social Purpose / Community Engagement Award from Arival, the voice of the in-destination experiences industry.
read more