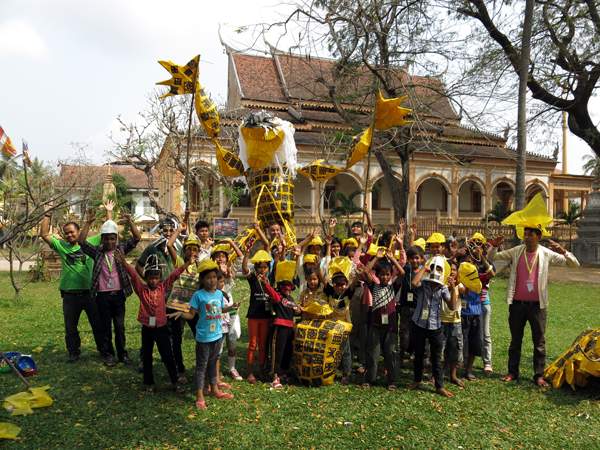 One of the traditions in Siem Reap, on the last Saturday in February, is the Giant Puppet Parade 2014. It has been going for 8 years now, and it is a great party for the children in the town. During the month of February, workshops are held and the children, from various schools and NGOs get together to make giant papier mache animals. These are then carefully illuminated and carried through the streets in the evening. The children themselves all dress up in colourful tee shirts with animal masks and hats. It's a grand spectacle and one that should not be missed.
What people may not realise is the involvement of Phare Ponleu Selpak from Battambang in the whole plan. The students from the arts school have been heavily involved helping the local children design and make the puppets. Jig Cochrane, the Director for the last 8 years, is training Heng Sereysokun from PPS, to take over as artistic director. The students at PPS are running the workshops which create the puppets. Jig is trying his hardest just to stand back and let the students work with the local children, but he said "It's hard. Having been the organiser for so long, the temptation to step in and do it myself is enormous. However I'm being good – even if the rest of the staff have to tie my hands behind my back!"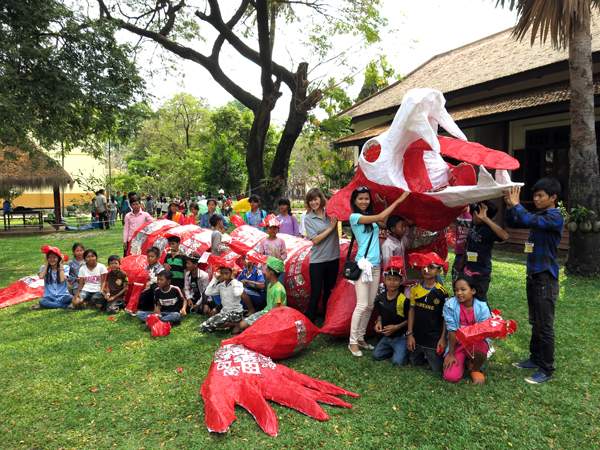 The figures generally represent endangered species, but there are a few extras. For example as this is the Year of the Horse, there will be a huge black white and gold horse with a small jockey riding it. There are also a black-shanked douc langur monkey, a red and white sun bear (pictured above) and a tailorbird.
Two other departments from Phare Ponleu Selpak will be showing off their talents this year, Phare Musicians will be playing in the parade, and Phare Circus artists will be making a short show in Pub Street, accompanying the parade and providing some entertainment at the end in Raffles Park.
The parade is on February 22nd, and starts near Pub Street at 7.00 pm. It crosses the river by the Old Market and winds along the river bank to the Highway 6 bridge. Here it re-crosses the river and finally ends in Raffles Park. The numbers are amazing! More than 20 giant puppets will be accompanied by up to 1,000 children dressed for the occasion. The organisers reckon the event will be watched by 20,000 people. The parade will be lead by the Bloco Malagasy drummers and will also include the Siem Reap Scout Band.
If you're in town, it's an event not to be missed. The Giant Puppet Parade 2014 is a fun party and a magnificent spectacle! So come along to this must-see, entertainment for the parade of the year. See you there!!!
Photos courtesy of Guy Singer, www.SiemReapPost.com