Duth Kimsru, Youth Educator and the first winner of the #NightatPhare competition
Over the next eight months Phare, The Cambodian Circus in association with ANZ Royal will give five incredible people a #NightatPhare, with dinner for two at the Phare Café and tickets to a show. Potential winners are nominated by friends, family, colleagues or fans. Learn more about the competition and how to nominate the next winner here.
---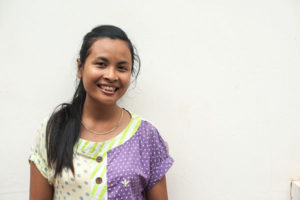 The first winner of the #nightatphare competition is Duth Kimsru, Program Manager at Pepy Empowering Youth. She was nominated by her colleague, Dana Bidnall who wrote that Kimsru, "inspires me by her ambition and hard work…Kimsru works very hard in her current role at helping young people to pursue their dream of education, just as she did. She certainly deserves a night out to have a meal, relax, and enjoy the circus."
Kimsru say, "This is my third time at Phare, but my first time seeing Sokha. I am very excited to see the show. I've never seen Sokha before. And I'm excited to eat at the café. I've never had dinner here before."
From Rural Cambodia to Bangladesh and Back Again. About Kimsru:
Kimsru was a high school student when she heard about a scholarship program sponsored by PEPY Empowering Youth to send young Cambodians to study abroad. She applied and won, and, in 2008, she left her family and everything that was familiar to her and travelled to Bangladesh to begin an undergraduate degree program.
The first year in Bangladesh was spent prepping for the degree and learning English. "It's incredible to look at her and talk to her and think that in 2008, she barely knew any English," says Dana.
In 2013 Kimsru finished her degree and returned to Cambodia. "When I came back, PEPY asked if I would like to be involved with them and I said, why not, I like to work with youth and the way I grew was also through education. So I started working as a Dream Coordinator with their Dream Project, mostly working directly with high school students to help them have their own dreams.'
PEPY's Dream Project is available to Kralanh High School students in grades 10, 11, and 12. Participating young people are provided a forum to explore their ambitions for the future, and any challenges they may need to overcome. They attend regular classes where they are given study tools, access to career resources, mentorship, and group workshops. Successful Cambodian professionals often come in to give talks. Participants are also take on field trips to visit universities and vocational training centres in Siem Reap to get a better idea of what the real world can be like.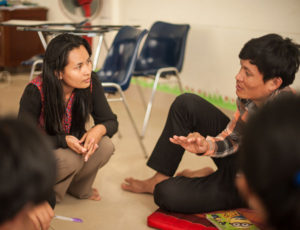 Says Kimsru, "In rural areas, when we ask what do you want to be in the future, a lot of youth say, I don't know, or they say I want to be a teacher, I want to be a doctor, almost 90% of youth say this, and there's something wrong. They don't know the context, they don't know there are many other job options.'
Kimsru wants to show her students that  "it's not only foreigners that can be successful, it's also us who can be successful. Whether you are poor or rich, it is how hard you work for your own success."
Dana's opinion: "It's come full circle, because Kimsru could have taken her education and gone anywhere, but instead she wanted to come back and work in Cambodia. Now there are these students that come from very disadvantaged backgrounds, but have similar dreams. I'm sure she inspires them because she went through the same things."
Last August, Kimsru was promoted to Program Manager, working directly with students who have won scholarships to study at university in Siem Reap. She provides youth empowerment class, very similar the Dream Classes, just at different level.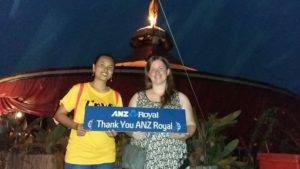 ---
Read about the #NightatPhare Competition and nominate the next winner here.
Read more about PEPY Empowering Youth here.