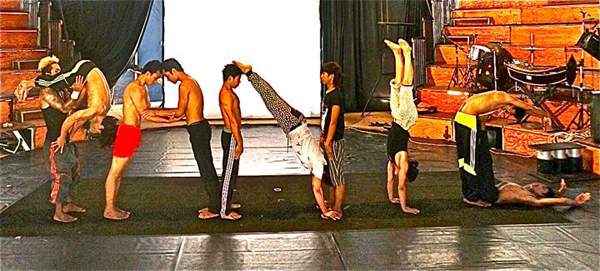 I stopped in today to talk with the Artistic Director Gauthier Jansen to ask some questions and capture a few photographs of the performers rehearsal. The show will be released on April 8th….
Brief Synopsis: Imagine the journey of 7 young artists who have trained their whole lives for the opportunity to join an international circus-theatre company… and then magically, each of them receives an invitation for an emergency casting with a world-famous troupe!  Watch these hopeful stars as they focus their skills for the most defining moments of their careers, fall apart from the fear and stress, become lost in the madness, but most importantly… find themselves through all the panic – and perform poetry in motion while they laugh and improvise all the way towards their destinies.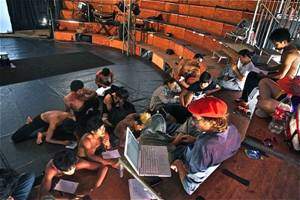 What are the key ingredients in creating a new circus production?
•    Character development: this is people telling a story, not a story telling about people.
•    Necessity. Meaning, there is a very limited time to pull the performance together and we must ask: What points are most essential? We do we care about? What do we have to do?  "The zest of the lemon is what we want here," he says.
•    Most important key: combining circus and theatre; many artists can around the world can do Diablo tricks (Chinese yo-yo) but every performance is different… But what does it mean to your performance? Every trick is expendable, but how to integrate it and make it essential is the key. Otherwise, we are doing plain theater without the circus. But this is Phare… "Why just simply drink a glass of water when you could throw it 4 meters in the air, catch it on a thin string, and then drink it?"
What is unique about this particular troupe of artists?
This story has been a fast production, so the theme has had to be close to the artists lives experience… an audition to work with a famous circus company is not far from the potential emergency/panic of these artists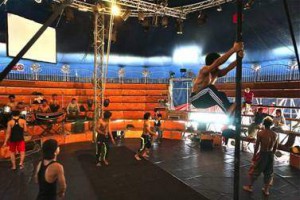 What has been your greatest success with this group thus far?
Time crunch! They have to create their own tools to bring their characters to life. There is no time for teaching new skills… having given them the character description, these performers have been practicing alone, in groups and bringing their own personal discipline to the production. They have been up early, no questions asked, as they understand the tight timeline in the creative process.  Oddly, the best enemy has been time – allowing for the performers hard earned instincts to lead them.
It has also helped that Gauthier has worked with many of these artists before and each of them was chosen for this production because they are each strongly autonomous artists – each with their own strong imagination and style –making them ideal for a performance showcasing a mock-audition.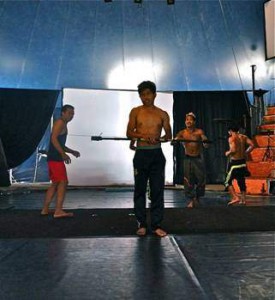 What was your inspiration for Proniap!?
-Riding in a taxi for the few hours between our Battambang circus school and the Siem Reap circus site, Gauthier and our director contemplated the need for a new show to fill in gaps in our upcoming performance schedule… A bit of an emergency in a way, and this mixed with the idea that the artists need to prepare for real potential auditions, made the idea a perfect fit. And indeed, the show is actually preparing our artists for a real audition if any of them does receive that fateful phone call from an international recruiter.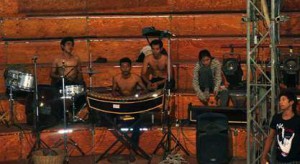 What would you like to tell fans before they arrive to see the performance?
-Let yourself be surprised by what you see, and happiness will follow… this is how our performers live… This is their everyday reality as they perform, no 2 show alike, discovering their next move as it happens and happily accepting the result as it is the product of all their hard work.
Thank you Gauthier! I can't wait to see how this panic ridden emergency turns out. All you readers should join us for opening night, or any thereafter, for Proniap! – showing from April 8th – 18th, and then returning again at the end of the month.  Come see why we are at the top of the Cambodian evening entertainment list. See you there!