Phare Ponleu Selpak school provides free academic education, artistic vocational training and social support programs. Every dollar donated makes a difference.
You can support our work from within Cambodia, and from all around the world. We are happy to accept donations of any amount to assist in the work that we do.
Why support Phare Circus?
Phare Circus has been performing for audiences in Siem Reap since 2013. It's a top-rated Siem Reap attraction on TripAdvisor and a Lonely Planet Top Choice. Some say it's the next "must see" in Siem Reap after Angkor temples. But there are many more reasons why you might be interested to support Phare Circus.
Are you aware it's more than entertainment?
Phare Circus is a social enterprise. Revenue goes to a social cause, not a private investor.
The majority owner of the circus is Phare Ponleu Selpak non-profit school. The school provides free academic and artistic education and social support services to approximately 1,200 at-risk Cambodian youth daily.
Earnings from the circus currently covers 50% of the school's annual budget and 100% of the circus' operating expenses. This is accomplished through ticket, private event, refreshment and merchandise sales. Pretty cool, huh?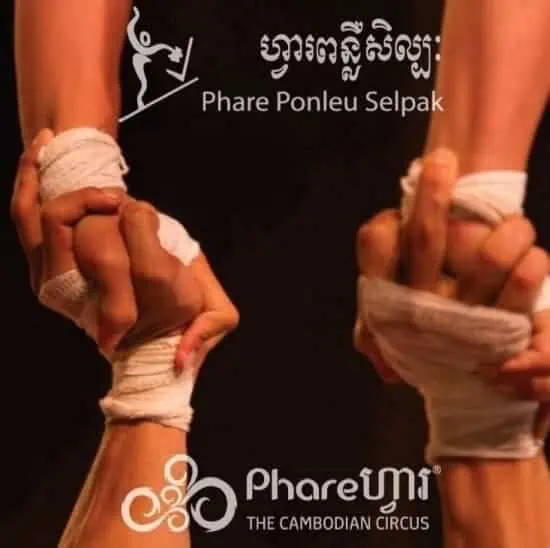 Wait, there's more!
Support Phare Circus means also supporting the local community. When circumstances permit, Phare invites local schools, non-profits, villagers and hospitality workers to experience the show at little or no cost. There are few things as rewarding as seeing the smiles and hearing the laughter of Cambodian guests watching their fellow Khmer performing in shows they themselves created. #khmerpride
Phare Circus occasionally travels outside the big top to support other social causes. Performers visit Angkor Hospital for Children monthly with pop-up entertainment for the kids. Phare also does pop-up performances from time to time at the Made in Cambodia Market, supporting local artisans and crafts people.
But here's the best part….
Cambodian youth are literally transforming their lives through art, breaking the cycle of poverty. They're discovering their own talents and realizing with hard work and opportunity, anything in life is possible. The salaries they earn performing in the circus help support themselves and their families. They perform all over Cambodia and overseas. Today's artists are paving the way for the younger generations. Support Phare Circus to help Cambodian youth make a brighter future. 
You make this possible.
The circus ticket you bought, that souvenir you picked up at Phare Boutique and the refreshments you enjoyed at Phare Café all help make it possible.  Every time Phare is engaged for private event or overseas entertainment, all help make it possible.
Your patronage at Phare, The Cambodian Circus is helping to transform lives.  Thank you!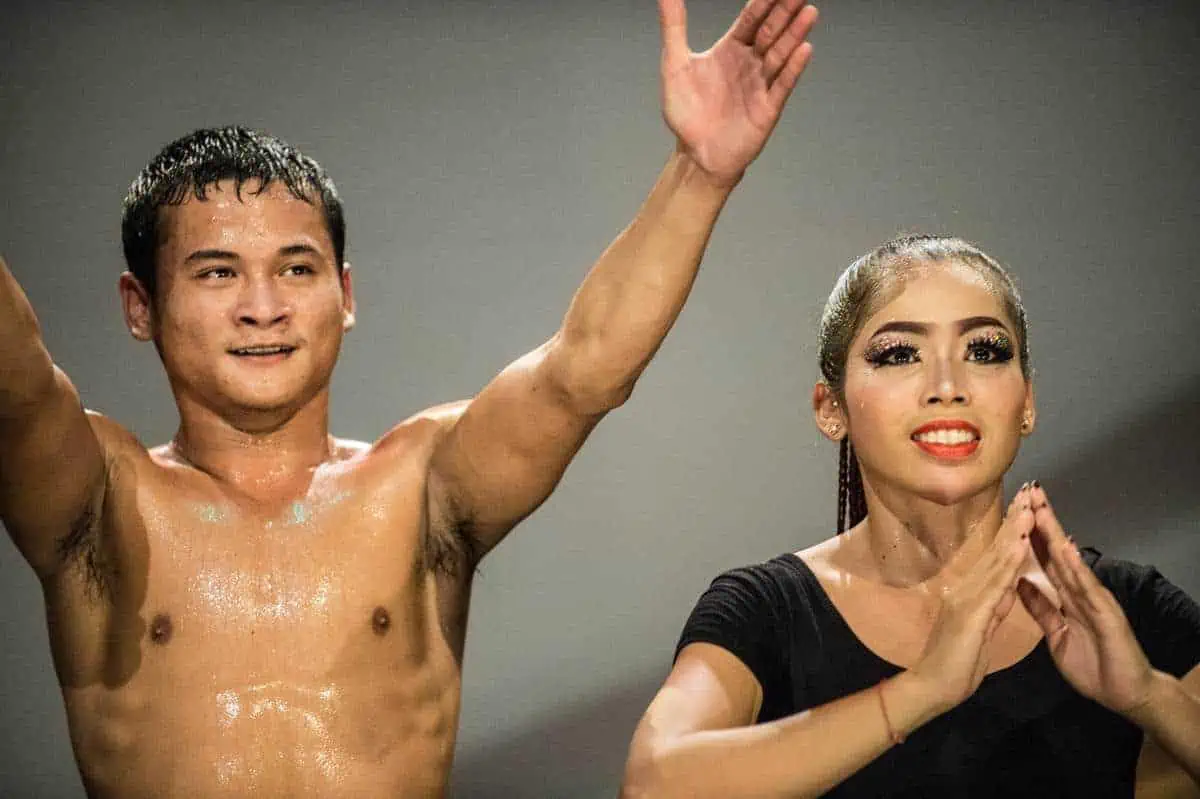 How you can help:
You can support our work from within Cambodia, and from all around the world. We are happy to accept donations of any amount to assist in the work that we do.
Support the Circus Invite a Family
Your contribution will provide show tickets to local families, putting smiles on faces of Cambodians facing challenging times. Keep the artists working while Phare navigates post-pandemic recovery. Support free education at Phare Ponleu Selpak non-profit school.
Transform Lives Through Art
Help spread a passion for the arts across Cambodia. All children, regardless of their background, deserve to have access to the healing powers of the arts. The artistic training at Phare Ponleu Selpak provides art therapy as well as professional skills that lead to lasting employment. Your donation directly supports these programs.
Help at-risk Cambodian youth escape the cycle of poverty and contribute to a modern cultural Cambodia.
Donations of any amount can help.
Your donation
changes lives
$50
housing for an artist working in Siem Reap for one month
---
$100
career development training for an artist for 1 month
---
$350
health insurance for an artist and 2 family members for 1 year
---
$8,000
a months salary for all of our performing artists in Siem Reap
$10,000
Travel for our performance troupe & crew to perform overseas
---
$25,000
Creative development of a new show
---
$50,000
10% of the cost of our new permanent home in Siem Reap!
All donations will be used to directly improve services to our artists, or to support the youth art programs of our parent organization Phare Ponleu Selpak, in Battambang.
Bank Transfer
Beneficiary :    PHARE PERFORMING SOCIAL ENT. CO., LTD
Name of Bank  :    BANK FOR INVESTMENT AND DEVELOPMENT OF CAMBODIA PLC
Address:     #22-23, Tep Vong Street, Mondul 2, Svay Dangkum Village, Svay Dangkum Commune, Siem Reap District, Siem Reap Province, Kingdom of Cambodia
Cambodia Bank Account No:  70-3700-143-334
SWIFT:  IDBCKHPP
Cash donation at the PPS campus:
Phare Ponleu Selpak
Anh Chanh Village, Ochar Commune
P.O Box 316 BTB, Battambang Town
Kingdom of Cambodia
Corporate Sponsorship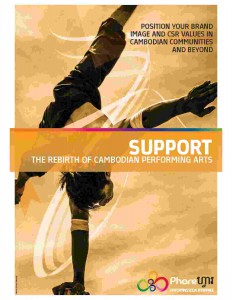 Another way to contribute is through corporate sponsorship.
Position your brand image and corporate social responsibility values in Cambodian Communities and beyond. Your sponsorship can help provide well-paying jobs to Cambodian artists from difficult social and economic backgrounds and financially support Phare Ponleu Selpak NGO school where they train.
Download the Corporate Sponsorship package for more information, or e-mail Dara Huot, Chief Executive Officer.
RESPONSIBLE TOURISM
Do you believe in tourism as a means for sustainability and community development?
Enjoy an amazing travel experience and leave a positive impact on the communities you visit. Phare Circus is a model of sustainability and responsible tourism. Guests engage directly with the performers in intimate atmosphere of the iconic red big top. Revenue generated provides well-paying jobs and funds Phare Ponleu Selpak non-profit school. By attending a Phare Circus show, you enjoy Siem Reap's best live entertainment, financially support the school and provide opportunities for Cambodian artists.