Why support Phare Circus?
Phare Circus has been performing for audiences in Siem Reap since 2013. It's a top-rated Siem Reap attraction on TripAdvisor and a Lonely Planet Top Choice. Some say it's the next "must see" in Siem Reap after Angkor temples.
But are you aware it's more than entertainment?
Phare Circus is a social enterprise. Revenue goes to a social cause, not a private investor.
The majority owner of the circus is Phare Ponleu Selpak non-profit school. The school provides free academic and artistic education and social support services to approximately 1,200 at-risk Cambodian youth daily.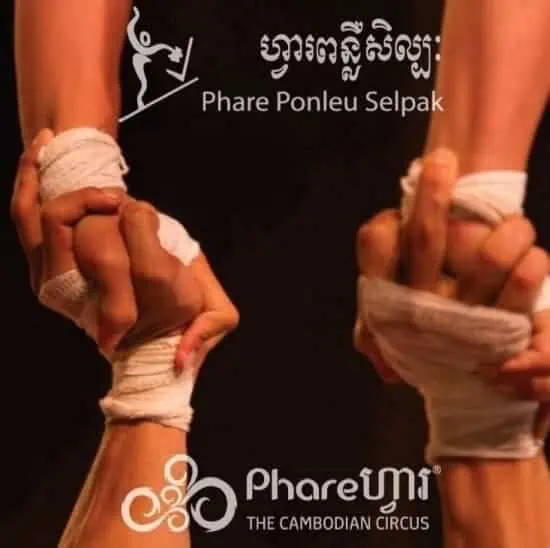 Earnings from the circus currently covers 50% of the school's annual budget and 100% of the circus' operating expenses. This is accomplished through ticket, private event, refreshment and merchandise sales. Pretty cool, huh?
Wait, there's more!
When circumstances permit, Phare invites local schools, non-profits, villagers and hospitality workers to experience the show at little or no cost. There are few things as rewarding as seeing the smiles and hearing the laughter of Cambodian guests watching their fellow Khmer performing in shows they themselves created. #khmerpride
Phare Circus occasionally travels outside the big top to support other social causes. Performers visit Angkor Hospital for Children monthly with pop-up entertainment for the kids. Phare also does pop-up performances from time to time at the Made in Cambodia Market, supporting local artisans and crafts people.
But here's the best part….
Cambodian youth are literally transforming their lives through art, breaking the cycle of poverty. They're discovering their own talents and realizing with hard work and opportunity, anything in life is possible. The salaries they earn performing in the circus help support themselves and their families. They perform all over Cambodia and overseas. Today's artists are paving the way for the younger generations.
You make this possible.
The circus ticket you bought, that souvenir you picked up at Phare Boutique and the refreshments you enjoyed at Phare Café all help make it possible.  Every time Phare is engaged for private event or overseas entertainment, all help make it possible.
Your patronage at Phare, The Cambodian Circus is helping to transform lives.  Thank you!