CORPORATE EVENTS – MICE CAMBODIAN STYLE
Planning a corporate event in Cambodia?
Phare Circus offers unique, original activities customized for any corporate event. Push the envelope with a circus arts workshop as a corporate team building activity or just great fun. Mingle over cocktails and canapé under the colorful lights of Phare's signature red big top. Indulge in a delicious buffet or set menu dinner, setting the mood to enjoy Siem Reap's top-rated evening entertainment (TripAdvisor & Lonely Planet).
Come to Phare Circus or let Phare Circus come to you. Book Phare Circus for entertainment at any venue throughout Cambodia. Phare can bring it's unique vibe and energy to your events at hotels, convention centers and even Angkor temples. Book an exclusive event at the Phare Circus Siem Reap big top. 
CORPORATE EVENT INSPIRATIONS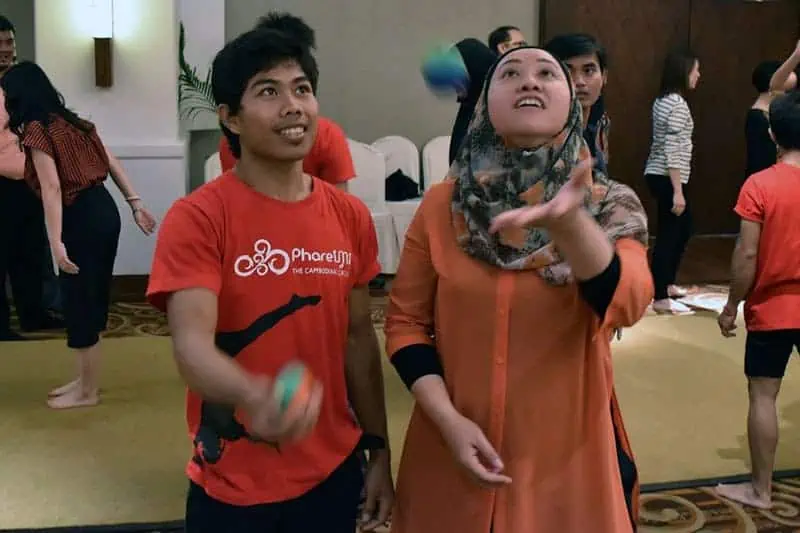 Team Building
Push the envelope. Move beyond comfort zones. Use the process of learning basic circus techniques as a team building exercise. Phare artists take guests through warm-up, learn & practice and cool-down, just as they would normally do for their rehearsals and performances. Apply the experiences to daily work activities or just have fun sharing.
read more about Phare Workshops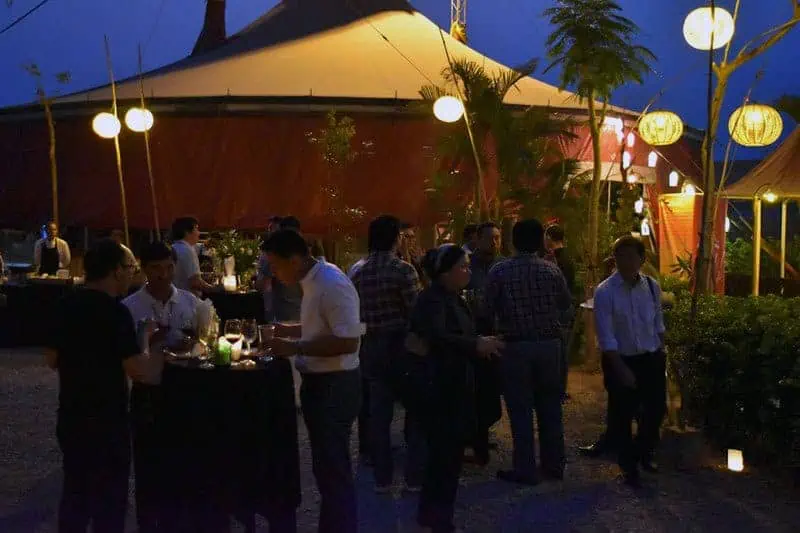 Dining at Phare Cafe
From cocktails and canapé to full buffet or set menu dinners, Phare Cafe can customize catering for any corporate event. Cold towel service, flower arrangements and free-flow drink packages are available. Add a welcome animation and circus pop-up acts during the service for even more energy and engagement between your group and the artists. Whether you are seeking elegant or informal, the atmosphere is guaranteed to be magical.
read more about Phare Cafe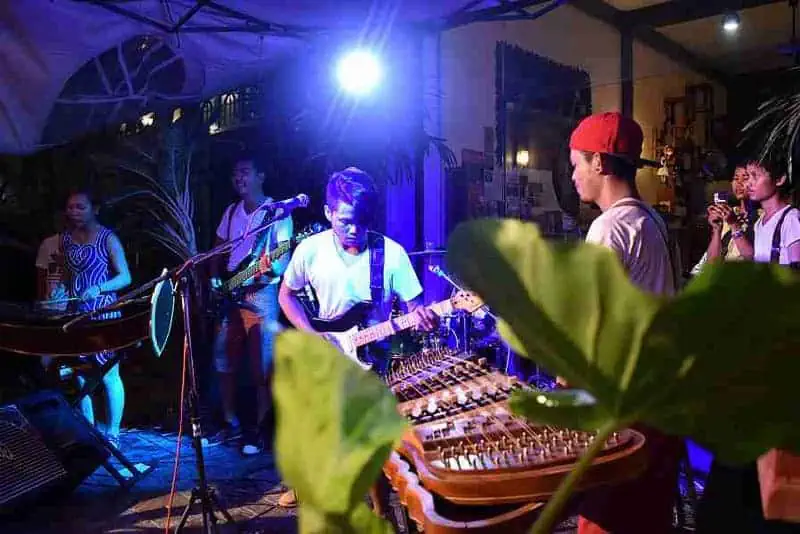 Phare Band
The same incredible musicians who accompany each performance at Phare, The Cambodian Circus have combined their talent to form Phare Band. Their unique style of music inspired by Cambodian Rock & Roll from the 1960's will liven any party. This photo was taken at a special "Rock The Street" community event held at The Little Red Fox Espresso.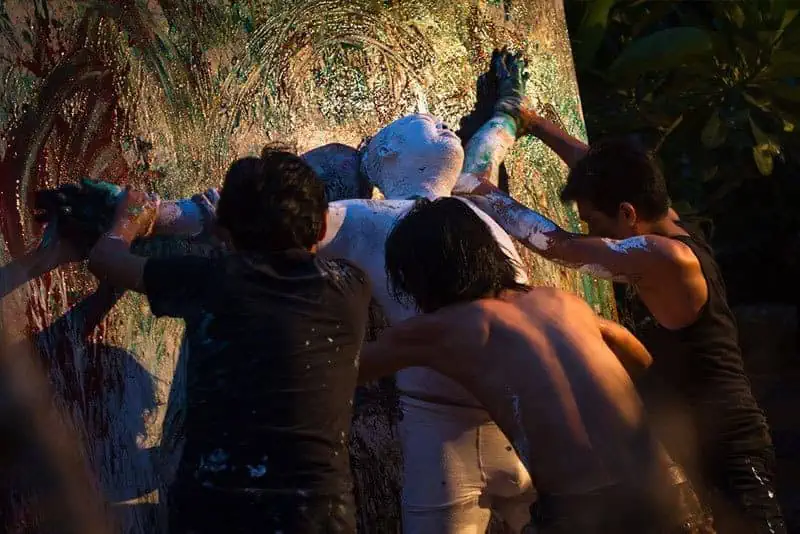 Live Painting
Visual artists from Phare, The Cambodian Circus and Phare Ponleu Selpak make painting come alive. Much more than just applying paint on a canvas, the artists tell stories with a live painting performance. The finished artwork makes a great auction item for your corporate event CSR. This photo was taken at The Little Red Fox Espresso event – "An Artist's Rain". Photo by Peter Phoeng.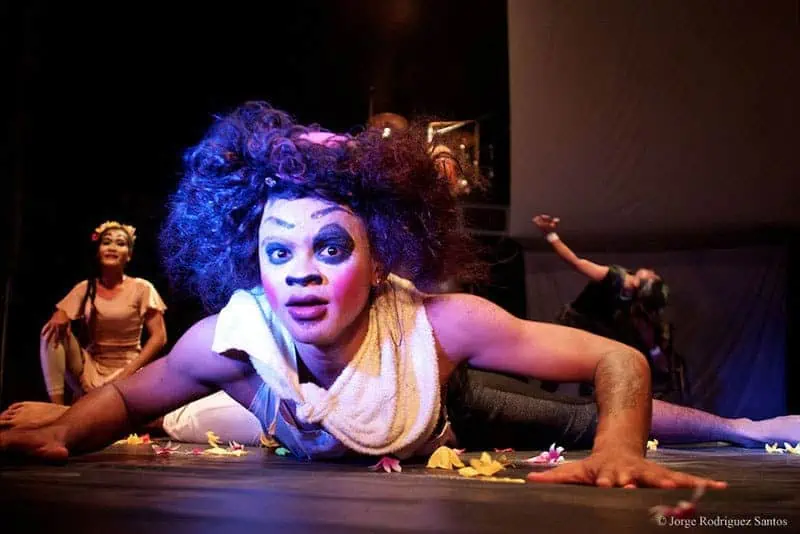 Phare, The Cambodian Circus
Round-out the evening with Siem Reap's most original, authentic, grass-roots entertainment. Phare artists use drama, dance, live music and circus arts to tell uniquely Cambodian stories from recent history, folklore or modern society. Book preferred seating in the front-center, or even buy-out the entire big top. Share the experience with underprivileged Cambodian youth and allow us to invite a local NGO.
RESPONSIBLE TOURISM
Do you believe in tourism as a means for sustainability and community development?
Enjoy an amazing travel experience and leave a positive impact on the communities you visit. Phare Circus is a model of sustainability and responsible tourism. Guests engage directly with the performers in intimate atmosphere of the iconic red big top. Revenue generated provides well-paying jobs and funds Phare Ponleu Selpak non-profit school. By attending a Phare Circus show, you enjoy Siem Reap's best live entertainment, financially support the school and provide opportunities for Cambodian artists.