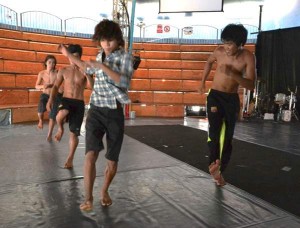 Responsible Tourism at Phare
As a traveller, have you ever asked yourself how you can use your travel experience to also leave a positive impact on the communities and places you visit? If so, you aren't alone. As more and more people are raising their level of awareness on the impacts of their travels, more attention is being paid to the concept of responsible and sustainable tourism.
So what is responsible tourism?  According to responsibletravel.com, "Responsible tourism simply means holidays that care about local communities & culture as well as wildlife conservation & the environment."  Think about it this way.  Each year around two million people visit the temples at Angkor Wat.  That's over 10 times the population of the neighboring city of Siem Reap.  The actions and decisions of those two million people have a tremendous impact on the people of Siem Reap, the surrounding communities, and even the country of Cambodia as whole.  When you travel, its up to you to make informed decisions about what your money goes to towards.  You can help support local economies that provide good jobs and also help to avoid supporting things that exploit local people and resources.
Not sure where to start?  One great way is to connect with local programs like Phare that are already tuned in to the specific needs of local communities.  Phare is an ideal model for responsible and sustainable tourism.  When you come to enjoy any of Phare's amazing circus shows, your money is going directly to supporting a local grassroots effort to improve the lives of disadvantaged Cambodian children.  All performers in Phare learn their skills through Phare Ponleu Selpak (PPS), an association providing arts education in Battambang, Cambodia. Young people from the streets, orphanages and struggling families in the community come to PPS to learn, express and heal themselves through the arts. Formed 20 years ago by 9 children and their art teacher returning from a refugee camp after the fall of the Khmer Rouge, today more than 1,700 pupils attend the free public, art, music, theater and circus schools run by PPS.  Who would have thought that just by coming to the circus, you are helping make Cambodia a better place!
Want to learn more about responsible tourism?  Another great organization here in Siem Reapis ConCERT, "Connecting Communities, Environment & Responsible Tourism".  According to their website (www.concertcambodia.org): "Our vision is a Cambodia free of poverty; our mission is to turn people's good intentions into the best possible help for the most vulnerable people in Cambodia."  The website includes resources on great local programs and some simple tips for responsible tourism, including:
•    Interact with the locals.  Learn a few words in the local language and make an effort to learn local cultural customs.  For example in Cambodia it is not polite to touch someone's head or sit with the bare soles of your feet pointing at someone.
•    Use your money to support programs that help street children, or programs like Phare that help to keep children off the street in the first place.
•    Don't support black market trade by buying historic artifacts or byproducts of endangered animals.
•    Use local resources like water and electricity responsibly and help prevent littering.
So wherever your future travels take you, take the time to ask yourself what impact you are having on the local community and environment, and make conscientious decisions about what you are supporting.  By travelling responsibly you can feel good knowing that you left a place just a little better than you found it.
And last but not least, we're delighted that supporting Phare by coming to our shows isn't only an act of responsible tourism – its guaranteed to be fun and leave a smile on your face! Our daily shows give students from our school a place to hone their skills as professional artists and a decent wage for performers to help support their families.
---
Get your tickets here: https://pharecircus.org/tickets
Can't make it to the show but want to make a contribution to the cause?  https://pharecircus.org/support-us/
Happy travels!