The Giant Puppet Parade in Siem Reap is back!! Mark your calendars for Saturday, 11 March 2023 and join us on the streets of Siem Reap. You can read more about the event on the Giant Puppet Project's Facebook page. We're feeling a bit nostalgic about previous years, so we decided to re-share this blog post from the 2016 parade. You can read more about past events here:
---
Giant Puppet Parade 2016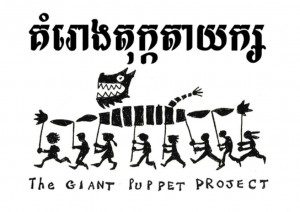 We were happy to participate again this year in The Giant Puppet Project, Siem Reap. The Giant Puppet Project is a local children's community arts project, the largest of its kind in Cambodia, providing a creative platform for disadvantaged children to foster and promote self-expression and confidence through art.
---
Each year, under the guidance of student artists from Phare Ponleu Seplak and an artistic director, puppets are created to include unique educational, cultural and ecological themes such as road safety, endangered species, hygiene, local cultural appreciation and environmental awareness.  In 2016 the theme was "Endangered Wildlife" and the puppets included a monitor lizard, white-winged duck, water buffalo, caterpillar and red ant.
There are two phases to The Giant Puppet Project.  The first phase involves three weeks of workshops where children from local schools, vocational facilities and 'street kid' organisations, along with child landmine survivors, are invited to join fun yet educational workshops to create the puppets.  Each puppet takes an average of two days to complete and they vary in size from ten to thirty meters.
The second phase is a parade through the streets of Siem Reap.  In the ancient style of Chinese dragon puppets, each organization proudly carries and exhibits their creation.   The children are applauded and cheered for the duration of the parade by an enormous and annually growing crowd. In 2016 over 1,000 children and adults marched in the parade and about 20,000 people turned out to watch the event. Each year artists from Phare, The Cambodian Circus play music and perform along the parade route.
After the parade the puppets are housed at various places around Siem Reap. This year we're happy to host one in the shape of monitor lizard right next to the Phare big top.
---
Read more about The Giant Puppet Project.
Read more about  Phare Ponleu Selpak non-profit school, who send artists to help create puppets each year.