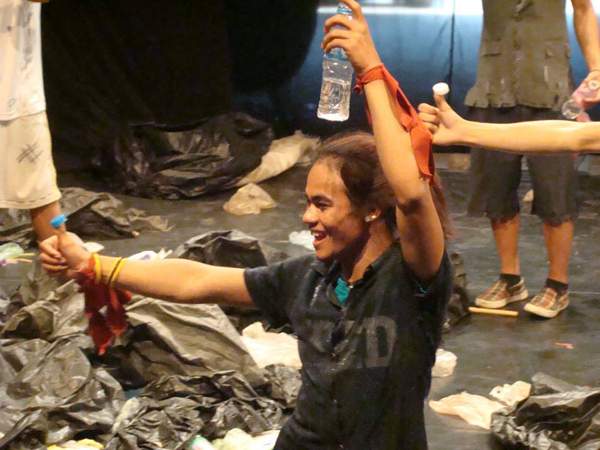 On Sunday February 2nd, there was a special event in town. The "Our City Festival", which has been running for some years in Phnom Penh, came to Siem Reap that weekend. On the Sunday, Phare played host to three shows in our Big Top.
First our own performers put on a brand new show called "Art and Rush". This dealt with the prominent problem of litter in the city. The stage floor was covered with plastic bags at the start and the show ended with the parading of a giant "litter man". The artists, dressed in rags, performed an acrobatic display with their usual consummate skill.
New Cambodian Artists performed a contemporary piece called "Into my arms" directed by Bob Ruijzendaal. This included traditional Apsara moves combined with modern dance moves. The whole thing was set to modern music.
Finally 63 artists from the Sacred Dancers of Angkor troupe took to the stage for "Angkor Wat Revisited", the company's first "play/performance."
Written by Madame Ravynn, the play featured a bas-relief at Angkor Wat itself. A group of tourists are walking past, admiring the relief when the figures come to life and explain the significance of the spirits inhabiting the temples.
A very interesting write up of the afternoon appeared in the Phnom Penh Post – you can read it here – http://www.phnompenhpost.com/siem-reap-insider/circus-performances-enthrall-our-city-audiences
Photos thanks to Gauthier Jansen.
[portfolio_slideshow centered=true]