Meet Ms. Sita, Restaurant Owner and #NightatPhare Contest Winner
Over an eight month period Phare, The Cambodian Circus in association with ANZ Royal will give five incredible people a #NightatPhare, with dinner for two at the Phare Café and tickets to a show. Potential winners are nominated by friends, family, colleagues or fans. Learn more about the competition and how to nominate the next winner here.
The second winner of a #NightatPhare is Ms. Sita. She was nominated by her friend Momoko Ikeuchi who wrote "Sita is a great woman working hard everyday at her restaurant, cooking delicious food at reasonable prices. She says 'I don't think a lot about making profit for myself but I think more about my customers. I want them to be happy. I'm always happy to be friends with them though we are from different cultures and backgrounds."
Ms. Sita says, "I've never been to the circus before. I've seen the place. I pass by it and I've seen some pictures, but I don't know what to expect because I've never seen any kind of show. So this will be a new experience for me and my family."
---
About Ms. Sita:
Ms. Sita was born in Siem Reap and grew up here with her parents and two sisters. Her father was a driver and her mother sold fish, Cambodian sausage and eggs in the market. She went to school in the mornings and afterwards all the girls would go to the market to help their mother.
Her father passed away and it was difficult for the family, so Sita stopped studying at the age of 16 and spent more time helping her mother out at the market. After a year, she started working at Teller gas station as an attendant, then at Banteay Srei Restaurant as a waitress. She also spent time working with her mother on a new business venture, selling cooked food at the market.
She later started working at a restaurant on Taphul Street, owned by a Japanese man whose wife was Korean. She worked as a waitress, but struck up a friendship with the owner and shared her ideas with him. "I was always telling him, if I had a restaurant, I would do this, I would do that. I had all these ideas."
Eventually he decided to help Sita open her own restaurant, a place she could run any way she liked. "He arranged for the restaurant for me. He found the space, organized the contract, helped design the space," says Sita. "I am the owner, manager and cook, and the restaurant is not connected to his, but he did all these things for me."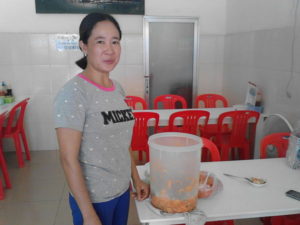 "I thought maybe if I ran a restaurant it could be connected to his restaurant. His was Taphul Restaurant, so I thought my restaurant could be Taphul 2, but he thought I should have my own restaurant. I asked him why he didn't want to do this, but he responded in Japanese and I didn't understand and I never asked again."
Sita says owning a restaurant was never her plan.  "I never imagined I would have a restaurant, I wanted to be a teacher. And since I was small, I never really enjoyed cooking."
But she says she realised that she wasn't young anymore and that she should learn to cook, so she attended cooking school for one year and learned the basics of Khmer and Western cooking.
Ms. Sita's restaurant has been open since April 2014. She serves Khmer food, including a chicken curry that her mother makes and delivers each day. Everything comes with a side of kimchi, a dish she learned to prepare from the wife of her former boss.
"I feel tired, but I'm happy doing this. My husband is a tuk tuk driver, but he helps sometimes and sometimes my two sons, and sometimes my younger sister."
Her dream is to save enough money to build a house to rent out. "That's my retirement plan," she says.
---
Read about the previous #NightatPhare winner, Duth Kimsru of PEPY Empowering Youth here.