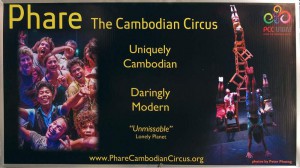 Phare, The Cambodian Circus has just equipped a fleet of tuk tuks with our new advertising boards. These remourks are now on the road driving all around Siem Reap.
If you see one, take a photo of it and post it on Facebook on our page – https://www.facebook.com/PhareCambodianCircus, or tag "PhareCambodianCircus"
We will award spot prizes to random pictures or unusual pictures posted on facebook by you. Only photos of these new tuk boards will qualify for the prizes.
So … look out, look out for a Phare tuk tuk about !!!!