An Artist is Born
By Sunita Mager – Meet Sarav. Nicknamed "Aprak", he is now a passionate and extremely talented circus artist. One could say he was lucky, but maybe it was fate, destiny, or simply coincidence that he was born in 1988 in Battambang, right behind the school he would join 10 years later as a circus student.
Natural Talent
At a young age Sarav showed a lot of drive and natural talent in circus skills and together with his friend Houn Sopheak (aka Ako), he picked up various disciplines such as clowning, balancing, acrobatics, hip-hop dance and aerials. Classes at the school were given either by Cambodian teachers or foreigner guests – circus professionals who held workshops for different lengths of time.  Some of the world's best circus performers made their way to Battambang to educate the children. Among those were artists from Cirque Romanes and Company XY. These workshops gave him the desire to perfect his skills, go beyond his self-expectations and target artistic fields he had never imagined before. Soon enough he would perform in Cambodia with productions such as Eclipse, Holiday Ban Touy Ban Tom, From 4 to 5 and tour abroad in France, Spain, Switzerland, Japan, Hong Kong and Korea.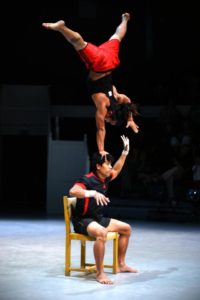 A Career takes Flight
In 2009, after submitting a video audition, him and his circus partner Sopheak were accepted at the National Center of Circus Arts for a 4-year training program that opened doors for an international career.  After a successful tour in 2012 with the graduating show This Is The End, Sarav worked for several companies like Buren Cirque, Compagnie du Bois Midi and Circus Monti in Switzerland.
Thanks to a small school called Phare Ponleu Selpak in Battambang, Prak's is a success. Together with his friend and circus partner Sopheak, they get to travel the world and do what they do best. Their next venture in 2017: Le Trianon.