Photo Credit: IQREMIX
One of the most colourful events in the calendar, Chinese New Year is celebrated in China and across the Globe.
In 2017, Chinese New Year falls on January 28th. Based on the lunar calendar it falls on the second new moon after the winter solstice.
The celebrations will start on January 27th, New Year's Eve, and continue for around two weeks until February 2nd.
How is the Chinese New Year celebrated?
Roughly a 6th of the world will celebrate Chinese New Year across the globe. The festivities are and explosion of colour, bright lights and loud music – involving parades, bell ringing, firecrackers and dragon dances.
The purpose of the festivities is to cast off the bad luck of the previous year and to call on the heavens to bring prosperity, luck and happiness for all family members in the year ahead.
Chinese families gather together for an elaborate reunion dinner on New Year's Eve, and clean their houses until they are spotless to clear out any bad luck ready for the New Year.
Traditionally, children are given red envelopes stuffed with 'lucky money' and good wishes on New Year's Day.
The colour red is seen everywhere, bringing luck and is said to scare off the mythical monster Nian.
The Year of the Rooster
The Chinese zodiac moves in a 12-year cycle, and those born in 1945, 1957, 1969, 1981, 1993 and 2005 are also known as Roosters. This is the year of the Fire Rooster, which last fell in 1957.
Not all Roosters are the same; there are five different types, each with different characteristics. The other types are Wood Roosters, Earth Roosters, Water Roosters and Gold Roosters.
Fire Roosters are known for being trustworthy, punctual and responsible.
On the whole, Roosters are active, amusing, popular, healthy, outspoken, honest, loyal, talkative and charming. They are also known to enjoy the spotlight but can be vain and boastful.
Chinese New Year in Cambodia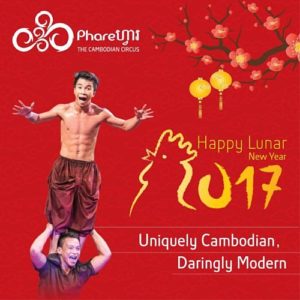 In Cambodia, nearly one million Cambodians of Chinese heritage actively celebrate the festival in the tradition of their ancestors.
Although not one of the official holidays in Cambodia it is still one of the most celebrated events of the year and sees an estimated 60% of the Cambodian population partaking in the festivities.
The season starts more than 10 days before the end of Bos, the last month of the Khmer lunar year. At this time Chinese Cambodian's begin to prepare by buying food and incense and begin decorating and cleaning their homes. In the lead-up to the New Year, Chinese-Cambodian shops offer discounts but many will be closed during the two-week festivities
Chinese New Year is all about family so many people will return to their birthplace in the countryside.
In Phnom Penh especially you will see Lion Dancers taking to the streets and on the night of New Year's Eve people gather at the pagodas to make offerings.
Gong Xi Fa Cai!