Borey Hang: Night at Phare Winner
Over eight months Phare, The Cambodian Circus in association with ANZ Royal will give five incredible people a #NightatPhare, with dinner at the Phare Café and tickets to a show.
Congratulations to Borey Hang, the third winner. He was nominated by friend Suzanne Patton,  who wrote:
"I would like to nominate my lovely friend Borey Hang and his two beautiful sons, Gerry and Mongkul for a night at Phare.'
'Borey lives in Siem Reap and has his own small business as a guide.  He works very hard and loves what he does.  My sister and I have toured with Borey on both our visits to Cambodia and he has become a great friend.'
'He doesn't just work hard at his business – he also raises his two young children, supports people with disabilities (including sponsoring a blind boy) and is working on helping a desperately poor family that he met by chance that live way out in the countryside in a very remote location.  Two grandparents struggling to raise two young boys on their own.  I can't even imagine the struggles that they face.'
'Over the time we have known him we have learnt so much about this wonderful, kind, generous man.  He is not a rich man, but he does so much to help others.  What an inspiration he is to us all.'
'He does so much for others, and not a lot for himself so I would love to see him enjoy a fabulous night out at Phare."
---
Borey and his two sons won three tickets to Phare, The Cambodian Circus and dinner at Phare Cafe. Here's more about him, including his impressions of the show.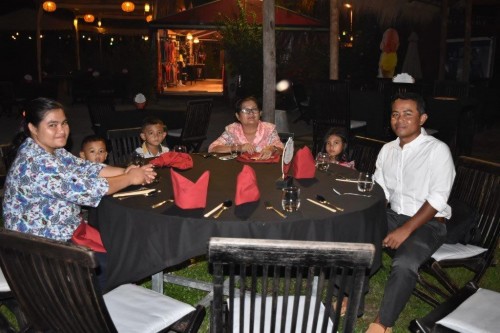 Borey was born and raised in Siem Reap. After he graduated from high school he applied to the Ministry of Tourism to study in their Tour Guide Training School. After studying there for three months, he graduated and became a certified tour guide.
He says he loves being a tour guide. Compared to many jobs in Cambodia, being a tour guide enables him to make more money, gives him the freedom of being freelance and allows him to meet many people from around the world and to learn from them. In the future, Borey says he wants to continue to grow in his field and to have his own tour company.
He brought his two sons, niece, aunt and mother-in-law to Phare and said they were all excited to see the performance. He said that while he often recommends Phare to his clients, he'd never seen a show before. On his expectations for the evening: "I think there will funny acrobats, doing exciting things!"
Thank you to ANZ Royal for sponsoring this contest!
---
Read more about the Night at Phare competition, including how you can nominate someone in the community here.
Read about the past two winners, Youth Educator Duth Kimsru and local restaurant owner Ms. Sita.