About Us
Phare, The Cambodian Circus is one of Cambodia's most innovative social enterprise models. Profits generated through ticket, refreshment, merchandise and private performance sales support the free education, professional arts training and social support programs of Phare Ponleu Selpak in Battambang.
The Phare Story
Uniquely Cambodian. Daringly Modern.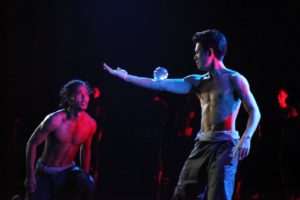 More than just a circus, Phare shows are unlike any in the world: dance, theater, original live music and breathtaking circus arts are used to tell uniquely Cambodian stories from recent history, folklore and modern society.
Phare artists are graduates of Phare Ponleu Selpak, an NGO school and professional arts training center in Battambang, Cambodia.
Phare Ponleu Selpak (PPSA)
PPSA was founded in 1994 by nine young Cambodian men returning home from a refugee camp after the fall of the Khmer Rouge. At the camp they took drawing classes and found art to be a powerful tool for healing. When they returned home they began offering free drawing classes to street children. Soon they opened a school, eventually offering formal K-12 education and professional arts training in the areas of visual arts (illustration, painting, graphic design, and animation), theater, music, dance, and circus. Today more than 1,200 pupils attend the public school daily and 500 attend the vocational arts training programs. All programs are offered for free.
In 2013, with the aim of financial self-sufficiency, PPSA created Phare Performing Social Enterprise (PPSE) with three missions:
Create meaningful employment opportunities for Cambodian artists

Create financially sustainable social businesses that provide a reliable income streams for Phare Ponleu Selpak

Revitalise the arts sector in Cambodia and promote Cambodian art locally and internationally
Phare Performing Social Enterprise (PPSE)
PPSE is the parent company of: Phare, The Cambodian Circus, Phare Productions International, and Phare Creative Studio
Phare, The Cambodian Circus
Opened in February 2013

Based in Siem Reap

Nightly professional shows under a 330-person big top, 365 days a year

Almost 75% of profit goes directly to PPSA

Seen by over one hundred thousand people

In the media: CNN, Al Jazeera, The Guardian, BBC News, AFP, and many more
Organizers of the Tini Tinou International Circus Festival, the only circus festival in Cambodia
Oversee Phare Boutique, which sells original paintings, drawings and music CDs from PPSA and local products made by Cambodian NGOs.
Phare Productions International
Customized private events MICE, international performances, and tours across Europe, Asia and the USA

Tour Highlights:

Korea Ansan Street Arts Festival 2016

"Khmer Metal" US Tour (California, Florida, DC and Virginia) 2015

 "Galaxy Khmer" at the HAU Theater Berlin, Germany and Bergen, Norway, January 2014

Co-productions and artist placements:

Co-production with Michael Laub's Remote Control production: Galaxy Khmer

Co-production with Global Arts Corps: See You Yesterday, World Tour 2016/2017

Amon Miyamoto's Terrace of the Leper King, Tokyo and Singapore 2016

Clients: MasterCard, Porche, BMW, Land Rover Jaguar, Manulife, Prudential, Raffles, Sofitel, Le Meridien, NagaWorld, Give2Asia, Cambodian Royal Family, and more
Launched in 2016

Creating original content: 2D animation, graphic design and illustration

Professional video and sound recording services
Our Social Investors
PPSE is a social business.  It means that the organisation is designed and operated as a company but is guided by social-benefit principles. The majority of the profits go to support Phare Ponleu Selpak NGO school, or are reinvested into the business for sustainability and growth. PPSE is a Cambodian Private Limited Company owned: by Phare Ponleu Selpak, Grameen Crédit Agricole Microfinance Foundation, and by private investors.
As a social investor, The Grameen Crédit Agricole Microfinance Foundation facilitates the emergence of Social Business projects like ours and assists them in their development, alongside with other partners. The projects supported by th

e Foundation enhance access by the poorest to essential goods and services (nutrition, energy, health care, and financial services).
---
Do you believe in tourism as a means for sustainability and community development? Read about how sustainable and responsible tourism are at the heart of Phare: Read more HERE and HERE.